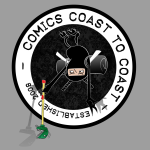 Joel Duggan and Matthew Ducharme welcome back Friend of the Show, Adrian Ropp, to talk about Disney Infinity 3 & the latest Chim Chum and the Portly Samurai book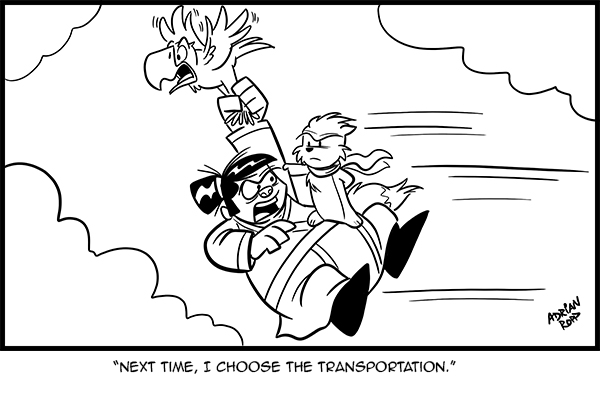 CC2C Guest History:
This is Adrian's FOURTH time on CC2C. Officially, "Friend of the show". Mainly because we want to stop counting before we run out of fingers.
https://comicscoasttocoast.com/podcast/episode-127-the-adrian-ropp-interview/
https://comicscoasttocoast.com/podcast/comics-coast-to-coast-171-adrian-ropp-to-infinity-and-beyond/
https://comicscoasttocoast.com/podcast/comics-coast-coast-211-adrian-ropp-interview-part-3/
About the Comic:
Chim Chum and the Portly Samurai is a single panel all-ages comic written and drawn by Adrian Ropp. It follows the adventures of a heavyweight samurai and his plucky sidekick, a red fox named Chim Chum. The first print collection, "Crazy Like a Fox", was released in July 2014 and is available on Amazon.com. The second volume will be released in March 2016.
The second volume will be released in March 2016.
About Artist:
Adrian Ropp has been working for more than twenty years in the entertainment industry. During that time, he has worked as a story artist on the animated feature films "The Princess and the Pea" and "The Velveteen Rabbit". Adrian has worked at Disney Interactive as a senior story artist, where his storyboard and writing credits include Toy Story 3, Cars 2 and Marvel's Avengers. He recently wrapped production on Disney Infinity3.0: Star Wars: The Force Awakens.
Among his many influences are Carl Barks' Uncle Scrooge, Sergio Aragones' Groo the Wanderer, Walt Kelly's Pogo, the animated films of Walt Disney, Jeff Smith's Bone, and the writings of C. S. Lewis and Charles Dickens.
Disney Infinity 3.0 – Star Wars: The Force Awakens
Adrian worked on the Star Wars: The Force Awakens playset for Disney Infinity.
https://infinity.disney.com/en-ca/
What was your role in the development of the playset?
Did you find working on such a huge property like Star Wars challenging?
At some point in the project, did a big scary lawyer provide you with a big scary NDA agreement?
Is Daisy Ridley as lovely (to work with) as I think she is?
How much did you know about the story prior to release, and most importantly, what did you think of the film?
Infinity newb question: What do I need to get started in Disney Infinity? — If I'm already playing, what's the best way to get into the new Star Wars playset?
If you could work on any Disney Infinity playset, in game or pie in the sky, what would it be?
(We can stick to in game if this borders too close to NDA stuff.)
I want an Avengers cartoon with the models from Infinity! The Hulkbuster looks ridiculously awesome.
American Mythology
https://www.americanmythology.net
Archie Comics info
https://chimchum.com/?comic=chim-chum-435
We hear you have a new book project to talk about? Begin at the beginnning and tell us all about it.
Masters Of Anatomy 2
https://mastersofanatomy.com/book2and3
Can you tell us about what you contributed to the second installment of the Masters of Anatomy series?
Pay It Forward:
Can you share an artist you are a fan of for our listeners to follow? Where can we find their work online?
Matthew Armstrong
https://matthewart.com