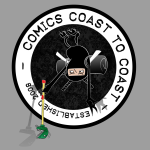 Adrian Ropp joins Brian Dunaway, Joel Duggan and Matthew Ducharme to talk about his webcomic Chim & Chum & The Portly Samurai  and Disney Interactive.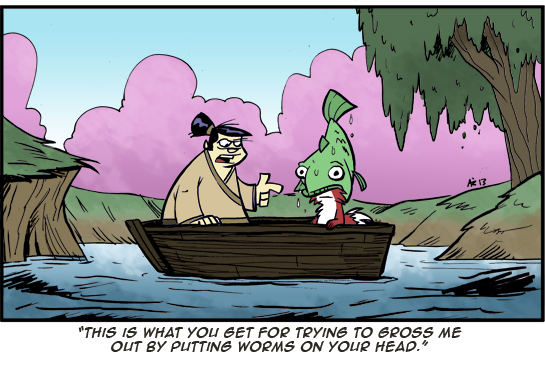 About the Comic:
Chim Chum and the Portly Samurai is a single panel all-ages comic written and drawn by Adrian Ropp. It follows the adventures of a heavyweight samurai and his plucky sidekick, a red fox named Chim Chum. The first print collection, "Crazy Like a Fox", was released in July 2014 and is available on Amazon.com.
About Artist:
Adrian Ropp is celebrating his 20th year in the entertainment industry. During that time, he has worked as a story artist on the animated feature films "The Princess and the Pea" and "The Velveteen Rabbit" and the direct-to-video animated series, Pig Tales. Since 2008, Adrian has worked at Disney Interactive as a senior story artist, where his storyboard and writing credits include Toy Story 3, Cars 2 and Disney Infinity. He recently wrapped production on Disney Infinity2.0: Marvel Super Heroes, for which he served as story lead for the Avengers Play Set.
Among his many influences are Carl Barks' Uncle Scrooge, Sergio Aragones' Groo the Wanderer, Walt Kelly's Pogo, the animated films of Walt Disney, Jeff Smith's Bone, and the writings of C. S. Lewis and Charles Dickens.
CC2C History:
This is Adrian's third appearace on Comics Coast to Coast. Previous epsiodes listed below.
https://comicscoasttocoast.com/page/2/?s=ropp
https://comicscoasttocoast.com/?s=ropp
| | |
| --- | --- |
| Let's talk about your new book! | |
| Where can people get a copy? | Joel |
| | |
| | |
| Refresh my memory – and our listeners – didn't you move Chim Chum to a longer, comic page format the last time you were on the show? | Joel |
| | |
| You were on the story lead for Disney's Infinitiy, Maverl Super Heroes The Avengers Play Set… | |
| First off, did you feel a lot of pressure with such a big/hot property like The Avengers? | Joel |
| As the lead on a project like that, what is your day to day like? | Joel |
| Did you get any back and forth with the design team? Or is that stuff all said and done / completely separate? | Joel |
| Can you say which story was your favorite to work on? | Joel |
| | |
| How can people support your work on Chim Chum? (hint hint – plug your Patreon!) | Joel |
| https://www.patreon.com/adrianropp | |
| | |
| What do they think of Chim Chum at your day job? | Matt |
| | |
| Has you work on the Disney properties effected your personal work? | Matt |
| | |
| How do you maintain your enthusiasm when drawing both in work AND outside of it? | Matt |
| | |
| Are you heading to Salt Lake City Comicon? | Brian |
| | |
| Do you shave your head for style or convience? | Brian |