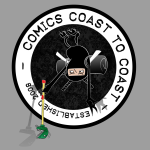 Daniel Lieske joins Brian Dunaway, Joel Duggan and Matthew Ducharme to talk about his career as a fulltime graphic novel author and illustrator.

The Wormworld Saga
https://www.wormworldsaga.com
About Artist:
https://daniellieske.com/about.php
My name is Daniel Lieske and I was born in 1977 on the edge of the Teutoburger Forest in Germany. I started my 'art career' quite early by selling my first comics on the schoolyard. Since then my passion is to entertain people with stories and artwork.
My wife, my son, our two cats and I settled down in the small German city of Warendorf. There we live in a historical frame house in the old town. In a secluded corner I built my studio in which I work on my projects.
About The Comic
https://daniellieske.com/about.php
Today I'm working fulltime as a graphic novel author and illustrator. I also do lectures, talks and workshops about graphic novel creation, independent publishing and digital art on the side. If you'd like me to appear at your event please find my contact information at the bottom of this page.
My workspace is 100% digital. All my drawings and paintings are created on a PC with graphic tablets and pen displays from Wacom. On the software side I mainly use Adobe Photoshop and Pixologic ZBrush for my work. These are great tools for artists and working digitally gives me a lot of creative freedom and also speeds up the overall process of making images. By using graphic tablets I can still hone the traditional skills of drawing and painting but without having to clean brushes or waiting for paint to dry.
Show Notes:
Art
You have a wonderful control over creating light, atmosphere and DEPTH in your work. Can you tell us about your artistic background? Art school or self taught?
Do you have a background in traditional painting or have you always been digital?
Digital setup – what do you work on now?
I know Photoshop is just a tool, like 'any other' but do you have any favorite brushes, tircks or techniques?
Chapter 2. Page… Umm… The last scene down the page, the first fantasy forest background. How much fun was that to paint for the first time?
(Continues into Chapter 3)
You keep a steady stream of a single hard edged column in Wormworld – but often break it to a soft edged, much wider panel for environment shots. It's very effective. How did you come to that design choice?
Process: Once the writing and planning is finished, what is your artistic process for developing a scene or sequence?
Let's use a fantasy scene as an example.
When we reach the center of Ankal Aasha the art shifts to include much more architecture and detail. How long do these scenes/panels take you to paint?
I get a little Myan and a little Asian and Indonesian imagery in some of your later chapters. When you're creating fantasy worlds, what cultures influence you the most?
What art inspires you? Who are some of your favorite artists?