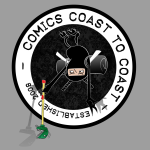 Ty Dunitz and Jenn Lee join Brian Dunaway and Matthew Ducharme to talk about their collaborative comic Rising Sand and it's first Kickstarter project!

CC2C Guest History:
This is our second chat with Ty and Jen. Previously on Episode 310.
https://comicscoasttocoast.com/podcast/ccc-310-rising-sand-episode/
About the artist:
Ty Dunitz – [Illus]traitor: games, musics, comics. ½ of @TheRisingSand.
Jenn Lee – ½ of @TheRisingSand ☀️ comic penciler, illustrator, dino-enthusiast, polka-dot wearer
About the work:
https://risingsand.glass
Where to find: Social media links, etc.
https://risingsand.glass
https://www.patreon.com/risingsand
https://twitter.com/glitchritual
https://twitter.com/y2jenn
Questions & Talking Points: (add your stuff here)
A quick breakdown of the interview: 15 min guest intro. 15 min guest project. 15 min topic discussion. (Related to guest if possible.)
Welcome back Ty and Jenn. Remind our listeners about who you are and what you do.
What's this abou a Kickstarter? Kickstart us!
You have funded! Now what? Trip to Disney Land?
Last I checked the first stretch goal wasn't visible. Can we get an exclusive on the goal on the podcast?
I like your emphasis on the book vs. "trinkets" in the Kickstarter/video. What made you want to highlight this so prominently?
Music To Go To Waste, the official Rising Sand soundtrack EP by composer Lukus Benoit. This is a wonderous sound and elevates my joy. How did you get hooked up with Lukus and what do you hope it adds to the project? Inspiration?
Have you selected a printer for Rising Sand yet? Worked with them before?
I hear you and Jenn are into the SG-1 and to a lesser extent the spin-off Atlantis. Have you stepped through the Chappa'ai to experience Origins or Universe?
Do they need a Stargate standalone streaming service?
What have been your experiences with #WebComicChat? Have you made any long term relations? any other great comic communities we may not be making use of.
Have you made any changes to your art or writing process since we last spoke last year? If not remind the listeners about your process.
Award winning! Tell me about your medals?
Jenn how is that Children's Book Illustrating going?
Ty what are the games I need to be watching out for?
POST PODCAST OFF MIC NOTE: If not already, I should send you Dave Michael's contact information for potential fulfillment help.
The LAST Question… Ever… Like, EVER-ever. (Pay It Forward)
Can you share an artist you are a fan of for our listeners to follow?
Where can we find their work online?
Nuclear Pasta – Ten Earth Shattering Blows
https://tenearthshatteringblows.com/archives/comic/2×04
Guillaume Bonnet (The Thief of Tales)
https://thethiefoftales.com/comic?sort=latest