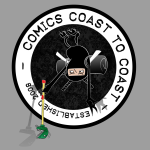 Derek Laufman  returns to talk to Brian Dunaway, Joel Duggan and Matthew Ducharme about Ruinworld and it's recent teamup with Boom! Comics 
This slideshow requires JavaScript.
Show Notes
CC2C Guest History:
This is our THIRD chat with Derek. Previously on CC2C Episode 299 May 4, 2017 and Episode 272 on May 16, 2016.
About the artist:
https://www.dereklaufman.com/about/
Creator of the comic RuinWorld and I'm currently doing freelance design work for Marvel, Warner Bros., Hasbro and Mattel. I recently illustrated 3 children's books for Disney/Marvel that came out in 2017 and available where ever books are sold. I'm the designer for Marvel's Super Hero Adventuresline.
About the work:
https://www.boom-studios.com/2018/03/26/derek-laufmans-hit-ruinworld-comes-to-boom-studios/
BOOM! Studios is proud to announce RUINWORLD #1, the debut issue of writer/artist Derek Laufman's worldwide hit all-ages comics series at BOOM! Studios. Intrepid adventurers Pogo and Rex are on a quest for fame and fortune. Their discovery of a special map leads them on an epic journey through dangers, demons and old enemies. There's one tiny problem—they've already lost the map. Now they'll have to survive the greatest dangers of a world where threats hide behind every corner…if they can find a way to first survive each other's best intentions first!

Here are those diamond codes for RuinWorld.

Issue 1 Derek Laufman Cover  MAY181180

Issue 1 Sean Galloway Cover  MAY181181

Issue 2  Derek Laufman Cover   JUN181270
Where to find: Social media links, etc.
https://dereklaufman.com
https://twitter.com/laufman
https://instagram.com/dereklaufman
https://dereklaufman.tumblr.com
https://www.facebook.com/The-Art-of-Derek-Laufman-159103387570982/
Questions & Talking Points: (add your stuff here)
A quick breakdown of the interview: 15 min guest intro. 15 min guest project. 15 min topic discussion. (Related to guest if possible.)
3rd Chat! We love us some Derek!
Did BOOM Studios approach you to publish RuinWorld or did you shop the comic around to differeint publishers?
almost stepped on your question. YOURS!
Follow up: What's that submission process like?
What is BOOM! Studios KaBoom Imprint?
A comic trailer! You know you have made it! and it's full motion! Tell me about the trailer creation process from your perspective.
Follow up: Fun fact: I know the guy that worked on the trailer. Curtis Rioux. He said to tell Derek, "Hi!".
https://www.instagram.com/curtisrioux/
You're writing
and
drawing RuinWorld. Do you find it beneficial to do both? Or do you prefer working with a writer/on a team?
Can people still read RuinWorld online?
Asked and answered but listeners may want to know:
https://ruinworldcomic.tumblr.com
Bullet Age
https://livgames.com
Art Book 1: XL Edition
Earlier this year you did a very successful Kickstarter for a re-print of your first personal art collection, Art Book 1. What promted that Kickstarter project?
What advice would you give to someone looking to publish/self publish a book using Kickstarter?
https://twitter.com/salesgeekery
You're attending more conventions now than the last time we spoke. Any pro-tips as someone still relatively new to the scene?
Can people who missed the Kickstarter still get their hands on Art Book 1: XL Edition? Where?
The LAST Question… Ever… Like, EVER-ever. (Pay It Forward)
Can you share an artist you are a fan of for our listeners to follow?
Where can we find their work online?
Sean Galloway (Cheeks)
sean cheeks galloway
John Sunriva