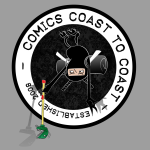 Maria Scrivan joins Brian Dunaway, Joel Duggan and Matthew Ducharme to talk about her syndicated comic Half Full on Go Comics in this interview and more!
This slideshow requires JavaScript.
Show Notes:
About the artist:
https://www.mariascrivan.com/about.html
Maria Scrivan is a syndicated cartoonist, illustrator and author. Her comic, Half Full, is syndicated by Tribune Content Agency and appears daily on GoComics and in newspapers across the US including the LA Times. Her work is published in MAD Magazine, National Lampoon, American Bystander, Parade Magazine, Prospect Magazine (UK), Macmillan Books, Funny Times, Mashable.com, HuffingtonPost.com and Salon.com.
About the work:
Half Full
Half Full gives a unique and intelligent insight to the truths and trials of everyday life.

From airline travel to social media, couples therapy or house hunting, it's not always easy to see the bright side but if you wait long enough, there is usually something to laugh about.
Where to find: Social media links, etc.
https://www.mariascrivan.com/
https://twitter.com/mariascrivan
https://www.instagram.com/mariascrivan/
https://www.gocomics.com/half-full
https://www.facebook.com/MariaScrivan/
Questions & Talking Points: (add your stuff here)
Intro
Thank you Maria for taking the time to sit down with us today. Can you tell our audience a little about yourself and your syndicated comic Half Full?
It's no small task to get syndicated and we all want to know…How did you do it? Tell us a story of blood, sweat and glory!
How do you stay positive when so much of the world today seems to be negative? What is the value of this expression in your comic/work?
Follow up: Have you found that is reflected in your followers/engagement?
Process
What pulled you towards doing a single panel comic instead of a more traditional comic strip?
Line in panel vs. under panel
Tools
Are you working all digital or a mix of classic media and digital? Your tablet of choice?
Trad-igital
The Comic Life
Tell us about how you balance the work load of a being a syndicated cartoonist as well as a healthy dose of licensed works on a daily basis?
I saw you hanging out with Sergio on your instagram page at what looked like The Reubens 2018. How was the event?
You also had pictures on Instagram from The International Cartoon Festival this year. What's that all about?
https://shrewsburycartoonfestival.wordpress.com/
Advice For Aspiring Artists
You do illustations for magazines and other publications on top of your comic work. Any advice for folks looking to do magazine editorial cartoons and/or illustrations?
Is there anything you can do in one medium vs another. Like Comics for syndication vs Magazines?
Rhymes With Orange – Hilary Price

https://comicscoasttocoast.com/podcast/episode-92-the-hilary-price-interview/
The LAST Question… Ever… Like, EVER-ever. (Pay It Forward)
Can you share an artist you are a fan of for our listeners to follow?
Where can we find their work online?
Ann Telnaes
https://www.anntelnaes.com