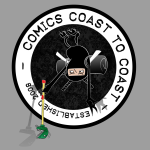 Cam Kendell joins Brian Dunaway, Joel Duggan and Matthew Ducharme to update everyone on his latest experiences on Patreon, #Inktober, A New Book and returning to Percival Pundragon!
LISTEN ABOVE OR WATCH BELOW!
This slideshow requires JavaScript.
CC2C Guest History:
This is our SECOND chat with Cam. Previously on Episode 256.
https://comicscoasttocoast.com/podcast/ccc-256-cam-kendell-interview/
About the artist:
Cam is a freelance illustrator and visual storyteller working out of Orem, Utah. After working as a Wargame Minitures Painter he quit and has been working freelance for 5 years on a miriad of projects from marketing and other boring things, to comics, board games, and other cool things.
About the work:
Cam's art specializes in walking the fine line between super adorebly cute and totally wicked awesome! Oh, and it's always all-ages y'all!
Where to find: Social media links, etc.
https://camkendell.com
https://twitter.com/camkendell
https://instagram.com/camkendell
https://camkendell.tumblr.com/
https://www.patreon.com/camkendell
https://www.youtube.com/c/camkendellart
SHOW NOTES
Patreon
You have a new Patreon page up and runing since your last visit. What is the focus of Patreon for you? What is the end goal?
Inktober and a Kickstarter coming soon. Are you still taking Commissions? How will Patreon affect your commissions in the future?
Percival Pundragon (A webcomic I started years ago and am currently working on relaunching) www.pundragon.com
This is some of my favorites of your work. What goes into the relaunch? A complete re-imagining or more of a renewed focus?
Mortimer B. Radley inktober story and Kickstarter (Current comic project. A ghost detective story which will be launched on Kickstarter in Nov 2017)
To Kill A Mockingbird has been on some library pull lists, will you address Boo Radley's recent supression in your book? or is that a bit much. 🙂
We can follow the Mortimer B. Radley on your InkTober posts. Will the comic have more content than you're currently sharing?
What kind of stories inspired Mortimer?
Instagram
Instagram Stories: Tell us a little about your "Story Time" story posts on Instagram. How did they start? How have they been received? Etc.
Instagram followers Interaction: Text vs Images
What's your favorite time of the year? Is it right now? Cause…right now is my favorite. Is it the fairy tale lore that attracts me?
Has your process changed since last we talked?
I noticed you use a mechanical pencil somtimes? Favorite brand of pencil and or lead?
"Set top" SNES Classic? On your Christmas list?
The LAST Question… Ever… (Pay It Forward)
Can you share an artist you are a fan of for our listeners to follow?
Where can we find their work online?
Tracy Butler
lackadaisy.foxprints.com
twitter: @lackadaisycats