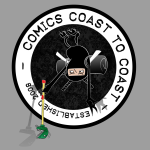 Listen above or Watch Below
If you would like: SUPPORT THE SHOW -> https://patreon.com/comicsc2c #ALittleLoving
Nicholas Kole returns to talk with Brian Dunaway, Joel Duggan and Matthew Ducharme about his latest project Jellybots on Patreon and more!

This slideshow requires JavaScript.
CC2C Guest History:
This is our 2nd chat with Nicholas Kole. Previously on Episode 204 (June 23, 2014 )
https://comicscoasttocoast.com/podcast/comics-coast-coast-204-nicholas-kole-interview/
When we last talked to Nicholas we discussed The Dawngate Chronicles and his Maleficent book.
About the artist:
Hi There! My name is Nicholas Kole, I'm a freelance Character Designer and Illustrator with 8 years of experience bringing fantasy worlds to life through animated shows, comics, video-games and children's books.
I'm setting out to build enough work for an art book (and more) about the World of Jellybots!
https://www.patreon.com/jellybots
About the work:
JellyBriefing 1 – Frontier Academy
Jul 22 at 5:24pm
Why hello there, Jellyfam, and a very swell weekend to thee!
Welcome to the first of several ~dossiers~ intended to bring everyone up to speed on some core elements of the Jellybots world.If you're here and you've pledged any amount of money, it's very likely that you know a little bit or a lot bit about the world of Jellybots. But it's *also* possible that you are just exceedingly kind and generous and haven't got a clue what I'm going on about.Even more likely than both is that I, like many dopes lost in the tunnel vision of Making A Thing, have assumed my vague hinting and allusions to bits of story and world have been terribly obvious when, in fact, they super duper have not.Whatever the reason, here we all are- and for the uninitiated, the baffled, the bemused, and the befuddled, the overinformed and underinformed- here's the deal with: Frontier Academy!
https://www.patreon.com/posts/13215629
Where to find: Social media links, etc.
https://nicholaskole.blogspot.ca
https://www.patreon.com/jellybots
https://twitter.com/fromhappyrock
https://www.artstation.com/artist/happyrock
https://www.instagram.com/nicholaskole/
https://nicholaskole.tumblr.com
https://nicholaskole.deviantart.com
https://www.facebook.com/nicholaskoleart
SHOW NOTES
Oh hi and welcome back to the show Nicholas! The last time we talked to you….
https://www.shardbound.com
Jellybots
So tell us about Jellybots!
I remember seeing Jellybot sketches when I first found your work on DeviantArt. How long has Jellybots been a "thing" in your world?
Technical stuff
A development project on Patreon is pretty unique. How did you come up with the structure for your Patreon campaign?
Patreon vs. Kickstarter. How did you decide what platform was right for Jellybots?
Any advice for artists out there wanting to start their own Patreon page or project?
Creative Stuff
How much time do you dedicate to Jellybots each day?
Jelly! Brilliant. The substance lends itself to a unique visual quality. How much jelly did you have to study or eat to understand jelly? Challenges? Solutions?
LISTENER QUESTIONS
Ben Riley @aquebb
Why is it that only children can harness the Jelly? Differences in the limbic system between adults + kids where the amygdala is, perhaps?
Teknobabel @Teknobabel
Where do babies come from.
Monarobot @monarobot
The core feel/idea Jellybots came from! And how your concepts grow and develop! Also what your ideal outlet would be for jellybots (comics, animated show, etc )
Joshua Suber @suber_universe
Your creative process? How did the idea come about? Inspiration? Advice to new artist? You know…all the juicy stuff!
The LAST Question… Ever… (Pay It Forward)
Can you share an artist you are a fan of for our listeners to follow?
Where can we find their work online?
Anne Szabla – Birdboy – https://bird-boy.com/
The Meek – Der-shing Helmer https://www.meekcomic.com/
Cauldron – Guille García  https://www.patreon.com/cauldron
Tracey Butler – Lackadaisy https://www.patreon.com/lackadaisy