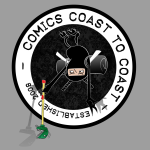 Pat Sandy joins Brian Dunaway, Joel Duggan and Matthew Ducharme to talk about his comic Next Door Neighbors , his art processes and much more!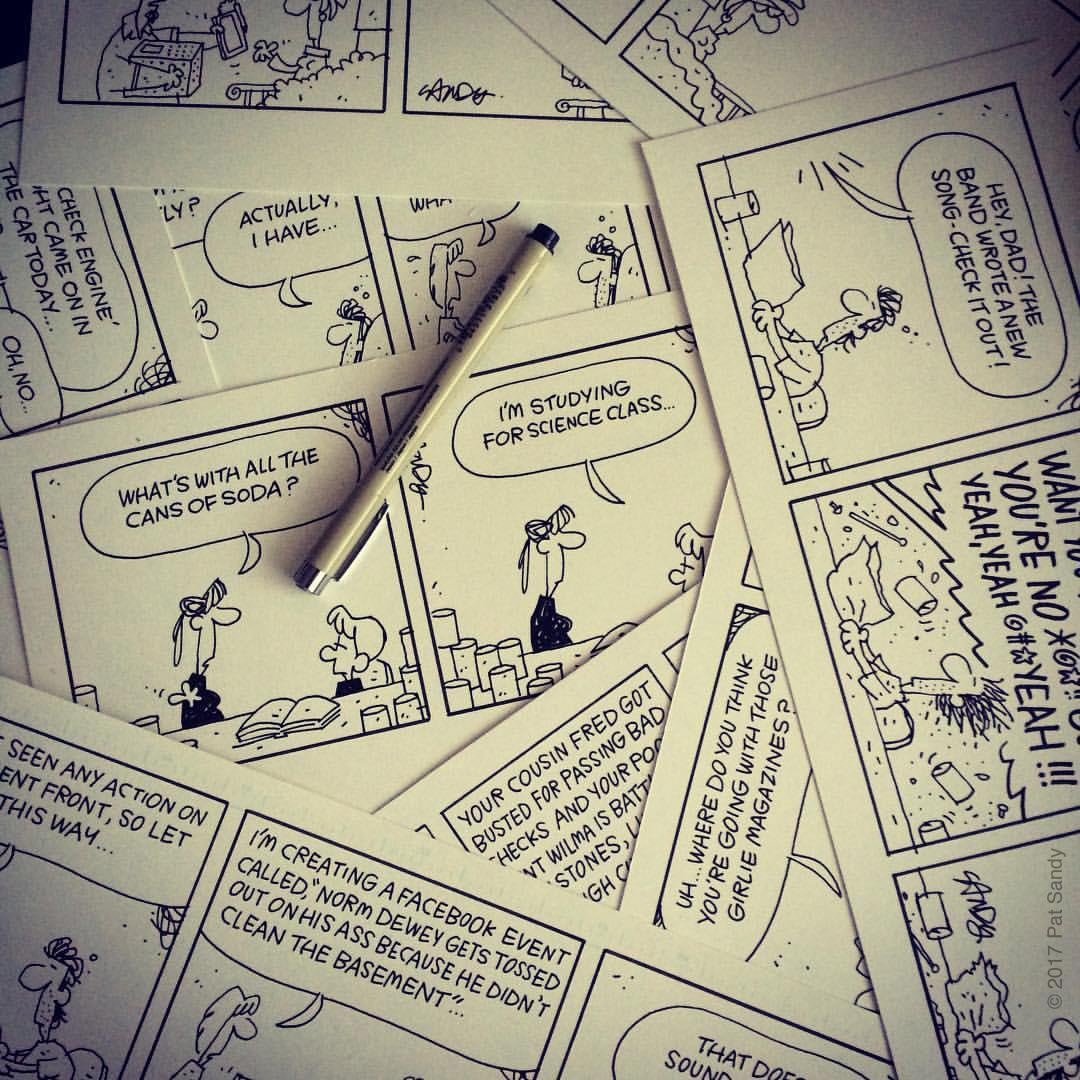 About the artist:
https://patsandy.com
Pat Sandy has over 35 years experience creating humorous art, caricature and cartoons for a wide variety of clients – some you may have heard of, like Good Housekeeping, Women's World Magazine, Playboy, American Greetings, Carlton Cards, Lerner Books, Wall St. Journal, Scene Magazine, The Plain Dealer and many more. From concept to finish, Pat brings a seasoned understanding of visual humor and how it can enhance your editorial content. Since 1983, he's worked at American Greetings as a cartoonist, illustrator and designer.
ive been selling cartoons to magazines since the 80's – havent been very active for a while but did have one at WSJ in march
About the work:
Next Door Neighbors
https://www.gocomics.com/next-door-neighbors
Norm mows the lawn at 10 p.m. … Claire and her punk band dial it to 11 when they practice in the basement … Jake just set fire to the neighbor's compost heap … and Jan is simply trying to keep up with the bills. Just another day in the neighborhood.
They're the Next Door Neighbors — stop by and say hello.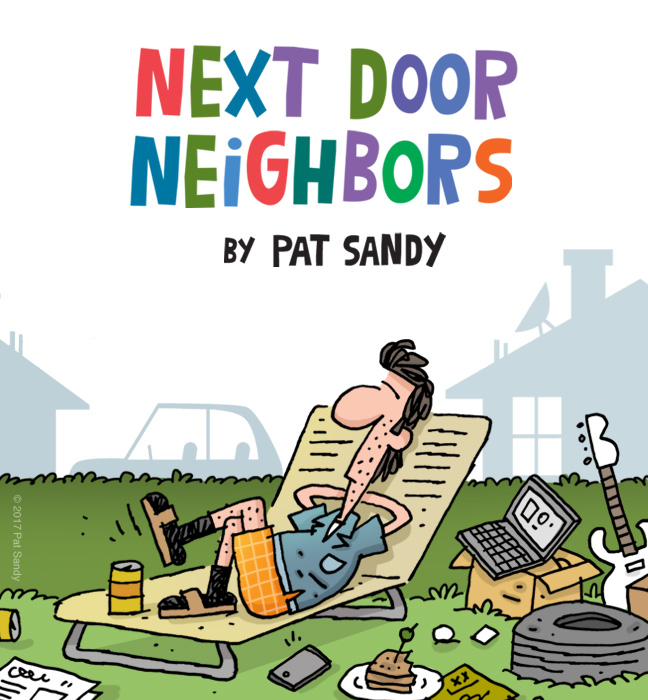 Where to find: Social media links, etc.
https://patsandy.com
https://twitter.com/pat_sandy
https://www.instagram.com/jpsandy/
https://www.facebook.com/pat.sandy.9
SHOW NOTES:
How long have you been drawing Next Door Neighbors?
first created in 1999 and first pitched in early 2002…ndn was launched at GC 6/13/16…
I pitched to syndicates 8 times over the years! NDN was a reboot of pitch #4…
I also have a band The Rhythm Syndicate / blues/swing/soul
Tell us about your band! Syndicate! Ah…we play all over NE Ohio…we've been around since 1999, but I was jamming with several of the guys for several years prior…It's a lot of fun in that after drawing or doing graph stuff all day, you can go rock it out at night…good times, man…
I used to transcribe Johnny Carson monologues when I was a kid…!!
I want to hear more about that! When you say kid…I can't help but imagine a sweatshop. LOL…seriously, it's a great story and I still have the notebook…I loved that guy
grew up on Mad/National Lampoon and TV…LOL
Did you ever submit any art to Mad Magazine? No, but I'd love to…not even sure who I'd contact!
What is the cutoff movie for you on National Lampoon? Van Wilder? Never saw that one…the mag ran out of gas in the late 70's, and they had a nice run with Animal House and the Vacation movies… after that, it's just a brand…
Let's Talk Process
You have posted some awesome pics on Instagram from your sketchbook. It gave me a little peek into your sketching process. It looks like you do it on Lined paper…but sideways! Is this a trick you learned? or self taught? Well, I do all my writing in a steno pad…I draw/lay-out/visualize as I write…always sideways…lol…I use a very specific brand…and the pencils are always 7 mm lead…I'm weird…the actual roughs are on large sheets of paper and then I ink off a lightboard onto smooth finish bristol…very old school, I know…LOL
As a cartoonist I'm guessing you don't have much free time. Do you slack off vicariously through Dewey? LOL!! Maybe not so vicariously…jk…yeah, I think there may be a little Norm in all of us…;)
You managed to sneak in a full comic composed of entirely black panels (courtesy of a power outage in the story) Get any grief over it?
Ha! No grief, but those were easy strips to draw…LOL
There's more than a bit of retro vibe to your graphics work. What pulled you toward that particular look? I've had more than one person say that, and I can't quite see it…but I like hearing that…I draw the same way most of the time unless I'm trying to stylize…I grew up on comics in 60's-70's, so maybe it all rubbed off…but the way NDN is drawn is essentially how I naturally draw…for some reason I have a lot of visual 'tics' I put in my cartooning that people have noticed…the little dot things etc…I also love to letter…and can't imagine ever going with a font, but who knows…
A lot of political characatures on your website. Do you follow politics closely, or were those all for assignments? I'm a political wonk so pretty much for myself…I've been so busy with the strip I've had no time to market that stuff…don't get me going on the current political climate…LOL…I do a lot of celebs too…did a pretty cool Chuck Berry a while back but hadn't loaded it up to the website yet…
The LAST Question… Ever… (Pay It Forward)
Can you share an artist you are a fan of for our listeners to follow? I have 3 – is that ok? Actually 4, and I'd love to give some props back to Will – he's one of my all-time faves – is that OK? The other cartoonists that I'm following and who I think listeners would enjoy are Cathy Law (CLAW) at GC, Brad Perri (Pirate Mike), Jose Sepi (My Son Is A Dog) and Amanda El-Dweek (Amanda The Great) at GC…they're all pretty cool and the range between them is amazing…is this too many? I could scale back…Not sure what the protocol is…do you need links?
Where can we find their work online? GoComics and ? I think all are on GC except for Brad (https://piratemikecomics.com)…correction Sepi had been at GC now at fbook (https://www.facebook.com/patosepi/)…Dan Thompson does a nice one at Patreon (Harley)…I have SO many that I follow…