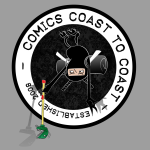 Piper Thibodeau joins Brian Dunaway, Joel Duggan and Matthew Ducharme to get us up to date on her new Artbook Project (Daily Paintings) on Kickstarter with the help of Forge Publishing
 
CC2C Guest History:
Piper was on the show on CC2C Episode 209
https://comicscoasttocoast.com/podcast/comics-coast-coast-209-piper-thibodeau-interview/
About the artist:
Piper Thibodeau (AKA Cryptid-Creations) is a freelance character designer from Montreal, Quebec. Her client list includes companies such as DreamWorks TV, Nickelodeon, Sesame Street, and Penguin Books. She is also known for her ongoing daily painting series. Piper has been painting every day since mid 2012 and she's not stopping any time soon.
About the work:
Daily character paintings since 2012. Currently over 1300 paintings!
Kickstarter: Daily Paintings – The Art of Piper Thibodeau
https://www.kickstarter.com/projects/forgepublishing/daily-paintings-the-art-of-piper-thibodeau
Where to find: Social media links, etc.
https://piperthibodeau.com
https://twitter.com/Piper_Thibodeau
https://www.instagram.com/piperdraws/
https://cryptid-creations.tumblr.com/
https://www.facebook.com/CryptidCreations/
About Forge
Forge Publishing is an independent art book publisher in Dartmouth, Nova Scotia. Our goal is to help cultivate and support independent artists by helping them to produce and publish art books that everyone can be proud to be a part of.
Where to find Forge
https://forgepublishing.com
https://twitter.com/forgepublishing
https://instagram.com/forgepublishing
forgepublishing.tumblr.com
https://facebook.com/forgepublishing
Show Notes
Life Update
Last we spoke, you just finished up school (right?) How goes the job hunt? Do you miss school yet?
How has life changed since then as an artist? or…how is the really real world of art?
Piper's Paintings
Not that we are counting, but what number Daily Paint are you up to now? Have you had any major down time?
You do so many of these paintings. Are you ever afraid of running out of ideas?
What's your method for coming up with and finalizing the puns?
My favorite Paintings are the ones that combine cute creatures and food. Do you have a favorite foodie art piece?
Daily Paintings Art Book + Kickstarter
Are there any pieces that are just in the book?
Are there any other goodies in the book, other than the paintings?
Piper's projects
You posted your Student Film trailer for Sidhe on Vimeo last month. Any animation news to tell?
Do you have a project that you've always wanted to dig into?
Forge Publishing
Was this your first forey into publishing? Were there any surprises?
Random Stuff
Pokemon Go! Have you caught any? Can you sing the Pokemon Theme song?
Can someone explain to me what Pokemon Go is?
Social Media graces. You send out a lot of thank yous. How important is it to be an extra nice guy on the internet in an age of jerks?
Speaking of Social Media, you started an instagram account this year and discovered the pain of being everywhere at once. You mentioned you might try Hootsuite Social Media Manager. Have you, and how is it working for you?
Someone recently tatooed their body with your artwork. How do you sleep at night knowing your artwork is hugging someones skin right now?