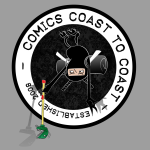 Tom Dell'Aringa joins Joel Duggan and Matthew Ducharme to talk about his new comic Rock & Tin and saying good bye to his old comic Marooned.
CC2C History:
Tom was previously on Episode 124
https://comicscoasttocoast.com/podcast/episode-124-the-tom-dellaringa-interview/
About the Comic: Rock & Tin
https://rockandtin.com/
A stone creature is befriended by the very robots he was created to destroy. Can he overcome his dark nature to make his own choices?
Peto is a stone golem, a magical creature brought to life under mysterious circumstances. The MechMagus is a robotic wizard who discovers Peto in the wilderness. Befriended by the very robots he was created to destroy, Peto must find a way to overcome his nature and be the person he chooses to be.
Rock & Tin Kickstarter
https://www.kickstarter.com/projects/tdellaringa/rock-and-tin-graphic-novel
About Artist:
Tom is a lifelong comics and art lover, and has been a professional artist for 25 years. Rock & Tin is his second graphic novel.
One of Tom's previous projects, Marooned, successfuly kickstarted in 2013. Digital copies of the book are available at MaroonedComic.com
https://maroonedcomic.com
| | |
| --- | --- |
| Rock & Tin | |
| When you started posting Rock & Tin online in 2013, you posted "With no schedule, but posting as often as possible." How did that work out? | Joel |
| | |
| What was behind your choice of a simple method of visual storytelling for Rock & Tin? | Joel |
| (Reminds me a little of Captain Underpants by Dave Pilkey.) | |
| https://www.pilkey.com | |
| | |
| You opted for a black and white look for Rock and Tin. Was this an asthetic choice? | Matt |
| | |
| What's next for Rock & Tin | |
| Congrats on the full funding (and stretch goal) for Rock & Tin! I thought we could start the show off with discussing; What happens now? | Joel |
| | |
| What sort of organization practices do you have for the fullfilment of the Kickstarter campaign? | Joel |
| | |
| The Rock & Tin campaign is for printing costs. Can you take us through how you (personally) "build" a graphic novel to this point. | Joel |
| | |
| | |
| Promoting your comic… | |
| How about a discussion about comic promotion, since it's always a hot topic and things have really changed. It's tougher than ever. | Tom |
| | |
| | |
| Upcoming Projects: | |
| Now that Rock and Tin is done, what's next? | Matt |
| | |
| A little chat about my next project Pong the Mystic | Tom |
| | |
| | |
| Previous Projects | |
| A quick aside; unlike another science fiction story, Marooned actually completed a five year mission. How did it feel to wrap it up? | Matt |
| | |
| In creating Rock and Tin, what were some things that you wanted to do differently from Marooned? | Matt |
| | |
| | |
| Here's a wacky, Brian Dunaway-type question; what's your stance on space mining? | Matt |