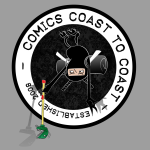 Brian Dunaway, Joel Duggan and Matthew Ducharme discuss the state of comics to webcomics. Where we have been, where we are at and where we are going.
The Comics Coast To Coast Crew
Brian's Notes

The Old Way To Find Webcomics. What now?
Brian

Joel's Notes

I don't really read many webcomics anymore outside of those we interview.
With more "to-do" each day, just remembering to go to a site to see a new comic when it's up is hard to do.
I'm reading (strips): Boumeries, BugMartini, Savage Chickens and Outnumbered on a regular basis.
I'm reading (long form): WormWorld Saga
Those I do read, I usually get email reminders that there is a new strip. Or, I catch them on Twitter. (BugMartini, Savage Chickens)
I should note that I was reading Girls With Slingshots for a long time, but Danielle Corsetto has moved on to other projects.
I find I end up binge reading archives for interviews – and while I still enjoy that – I don't often add anything to my daily routine.
What does that say about my readers potential habits?
Are people still reading webcomics daily? What do you think is the means of consumption? (Email? Patreon? Tumblr? Twitter?)
Stripped Film: Extras (on sale this week) Great interviews
https://stripped.vhx.tv/buy

Matt's Notes

Comics Past
The good: If you broke into synication, you automatically have a dedicated audience, and a steady income.
The bad: Extremely few opportunities for the up and coming artist. Lottery odds for making it. Limited to safe subjects. Male dominated.
Comics Present
The good: Anyone can create and post a web comic. There are so many different ways to read; online, in print, on a phone, tablet, etc.
No censorship, anything goes. Kickstarter and Patreon provide a way for artists to fund their work. Much more gender diversity.
The bad: Anyone can create and post a web comic, which means a glut of content. Creations are easily lost in the sea of internet distractions.
<– Yes! (Joel)
Comics Future
How will the advent of new technologies such as VR effect the industry? With so many well established creative properties, will there be room for new material? Will technology eventually make it too easy to create content, devaluing the artist even further?