Mere moments ago Lucas Turnbloom of Imagine This! tweeted the following:
Sneak peek at my new comic… https://j.mp/aiEftE #webcomics – From @roberttheplant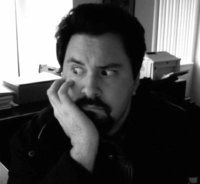 The link takes you to Lucas' website "Imagine This Comic" where we are greeted with this news:
Remember that "other" webcomic I told you I was working on? Well, since it's getting closer and closer to launch, I thought I'd give you a sneak peek at some of the characters! I said some. There are about 12 regulars SO FAR. Think "Simpsons," people.
Directly below his blurb is a picture of what can only be described as "a new comic…"
Here is that picture now:

Cropped severely and blurred beyond recognition to avoid any copyright laws. Click Here to see the whole picture in all of it's HD quality.
Stay Tuned…and remember…you heard it here second. TMZ knew about it hours ago.