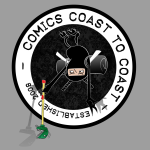 Carlos Castellanos , creator of Baldo joins us along with with Mashup Wizard Sebastiaan Van Dijk.
Carlos Castellanos joins Brian, Justin and "Mashupman" Sebastiaan Van Dijk, on this multicultural mess of a show. It's a really fun one, very casual and funny, and we discuss marketing your work to the internet community. Carlos is really into this, and tell us exactly what we need to know and what we need to do if we're going to be successful. Don't miss this one!
Oh, and of course, there be crickets.
Here are a lot of the links we discuss in this show that you'll really want to check out.
Links:
Twitter : Microblog community website.

Twhirl : Desktop application for blogging on twitter.

The Thirty Day Challenge :  30 days of marketing your site.

Facebook : Social networking site.

Cartoon Smart : Great Cartoon Tutorials

tutvid.com : Free video tutorials.

YouTube : Social video site

ning.com : Community site builder.

WordPress : Blogging software

ComicPress : Comic theme  for wordpress.

Comics We Talke About: Mows , PVP Online
See YA!
As always, we love your feedback. Post here or email us.
Write to: guys@comicscoasttocoast.com

{enclose cccep48.mp3}
These are the Comics Coast To Coast guys comics:
A Mission Deep by Brian Dunaway
MythTickle by Justin Thompson
Booksmarts by Tom Racine