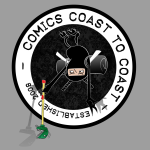 Yes, the second part of the inteview with THE Wiley Miller of Non Sequitur is here!
Wiley's new book, "Attack Of The Volcano Monkeys ", features the continuing adventures of Ordinary Basil.
 On this half of this fascinating interview, Wiley talks about the absurdity of online polling for comics, his writing process, and just what he really thinks of web comics. So listen and learn from a true master of the artform.
Hey! We want to know what you think abour your comics page in your newspaper. Give us a call and let us know what you like on your comics page, what you don't like on your comics page, and what comics you wish were on your comics page. Call us at 206-350-1494 and leave a message. And don't forget to tell us whicjh paper you are reading.
We'll most likely play your recording, unless it is lewd.
Webcomic picks of the week:
Captain Excelsior by Zack Weiner and Chris Jones
NobbyNobody's Odd-Fish by Phillip Blackmon
Download us at iTunes or just listen here. 

{enclose cccep33.mp3}
These are the Comics Coast To Coast guys comics:
A Mission Deep by Brian Dunaway
MythTickle by Justin Thompson
Booksmarts by Tom Racine