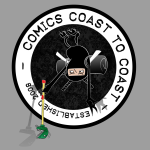 This week we slow down for Speed Bump creator and genius Dave Coverly, who joins us in yet another nightmare SKYPE-fest. I don't know what it is about the two single-panel cartoonists we have had on this show, but like the Dan Piraro interview, we had major technical problems with the SKYPE network yet again. But, after we adjust to the time-lag and get back on our feet, the interview really lightens up. Full credit goes to Dave Coverly and his open, friendy, and generous nature, which kept him from hanging up.
Dave discusses his early career as an editorial cartoonist for the Herald-Times in Bloomington Indiana, and what is different about creating a single panel strip versus a multi-panel one. He also takes part in our new 5 Questions in 5 Minutes segment.
So give it a listen and please be forewarned about or time-lag and volume problems. They really are out of our hands and well, the show is free.
Our web comic theater is from the November 15th, ExtraLife by fellow cartoonist and podcaster Scott Johnson .
These are the Comics Coast To Coast guys comics:
A Mission Deep by Brian Dunaway
Myth Tickle by Justin Thompson
Booksmarts by Tom Racine