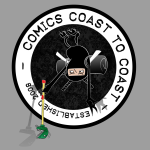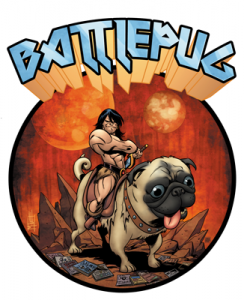 Join us this week on Comics Coast To Coast as Brian Dunaway (briandunaway.com)  talks to Mike Norton of BattlePug about his comic and career. Thanks to all!
Battlepug: The Web Comic was born out of desperate scramble to appease iFanboy. They contacted Mike to create a signature t-shirt for a new line of merch. However, Mike had been working exclusively with DC Comics for 4 years and had no original properties that he could reveal to the world yet. He drew the image you see above and had Allen color it. And lo, a BATTLEPUG was born!

THE CREATORS

Mike Norton – Writer/Artist 
Mike Norton has been working in comics for over 10 years now, gaining recognition for projects such as The Waiting Place and Jason and the Argobots, Voltron, Queen and Country, Gravity, Runaways, All-New Atom, Green Arrow/Black Canary, and Billy Batson and the Magic of Shazam. He is currently the artist of Young Justice for DC Comics. He is also very, very tall.

Allen Passalaqua – Color Artist 
Allen is a San Francisco based digital artist, Photographer and Comic Book Color Artist. His coloring work includes Justice Socity of America, Spiderman, Green Arrow and Black Canary, Detective Comics and many others. He is not as tall as Mike.

Special thanks go to:

Chris Crank – Letterer/Editing pal, Brion Salazar – Website developer (Sorry if Mike messed it up, Sal!), Josh Emmons – Technical Go-To-Guy, & iFanboy for forcing Mike to come up with something so silly on the spot.



Don't forget to listen to all the great podcasts on the Frog Pants Network.
As always, you can find our show by clicking the link below, or if you want to take us with you,
you can download us from iTunes.