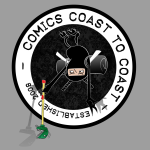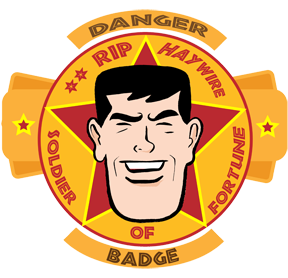 Join us this week on Comics Coast To Coast as Brian Dunaway (briandunaway.com) , Joel Duggan (StarCrossedOnline) and Denver Brubaker (thecheckeredman.com) talk to Dan Thompson of Rip Haywire about his comic and career. Thanks to all!
Rip Haywire is a soldier of fortune, a contemporary adventure hero in the classic mold: a brave, square-jawed man of honor who lives for danger. He's also a bit of a lug. Accompanied on random adventures by his cowardly dog TNT and his venomous ex-girlfriend Cobra, Rip tracks down lost treasure, takes down madmen and takes on any job that promises heart-pounding action, peril and intrigue! And, of course, cash. For Rip Haywire and his pals, every adventure can turn into a surf-and-turf platter of nonstop trouble — or it can just deal with the everyday hazards of a life lived to the max. Rip Haywire is an action-packed, silly send-up of the adventure comic strip that takes readers on a roller-coaster ride across the globe and shows how even studly mercenaries get yelled at by their mothers.
Don't forget to listen to all the great podcasts on the Frog Pants Network.
As always, you can find our show by clicking the link below, or if you want to take us with you,
you can download us from iTunes.

Show Notes:
Webcomic Pick Of The Week:
Producer's Picks:
Comics News:
Music To Draw By :
Special thanks: Scott Johnson (https://myextralife.com), Sebastiaan (The Mashup Man) for our Mashups, Nicole Spagnuolo (https://nicolespag.com) and everyone behind the scenes