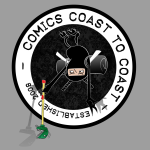 Join us this week on Comics Coast To Coast as Brian Dunaway (briandunaway.com) , Joel Duggan (StarCrossedOnline) and Denver Brubaker (thecheckeredman.com) talk to Jules Faulkner of Promises Promises about her comic and career. Thanks to all! Oh Canada!
Promises Promises is a glib look at diet, fitness and all of the struggles and successes that come with achieving a healthy lifestyle.  Promises Fitness is the name of the posh suburban club staffed by Fiona, Trish and Shanta, three well meaning and cheeky fitness professionals, doing their best to keep a very resistant membership in peek condition.

The original Fiona, Trish, Shanta and Baroness designs were inspired by friends of mine. Just so it's stated emphatically and for the record, that's where the similarities end. The real life Fiona, Trish and Shanta are absolute professionals, terrific trainers and all around wonderful women. If you're ever lucky enough to work with any one of them, you'll have a great time and their results are undeniable. The real lifeBaroness on the other hand…well, she doesn't have a little dog.



Don't forget to listen to all the great podcasts on the Frog Pants Network.
As always, you can find our show by clicking the link below, or if you want to take us with you,
you can download us from iTunes.

| | |
| --- | --- |
| Music To Draw By | Webcomic Pick Of The Week |