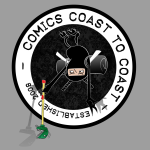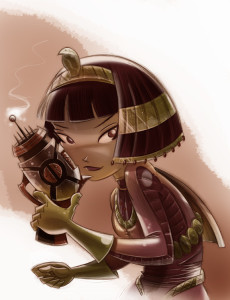 This week on Comics Coast To Coast we talk to Mike Maihack of Cleopatra In Space
"Zapped away as a teenager from her home era of 52 BC, Cleopatra VII found herself in the middle of a centuries' long war in the far, far, really far, far future. Now she fights alongside P.Y.R.A.M.I.D. (Pharaoh Yasiro's Research And Military Initiative of Defense), both human and alienkind's only hope against the evil Xaius Octavian.
An ancient carving prophecises that Cleopatra is destined to become the savior of the galaxy; finally freeing its worlds from the tyrannical rule of the technologically advanced Xerx race. With help from her best friend and teacher, Khensu, Cleo is learning what it takes to be the great leader she is destined to become while still trying to figure out how she's ever going to pass military school, deal with her crush on the most popular boy in class, avoiding curfew, and all of the other important things that come with being a seventeen-year-old future queen of the universe.
But first she has to complete her latest mission…"
A very special thanks to Justin Thompson (https://mythtickle.com), John (https://chippyandloopus.com), Sebastiaan for our mashup and Scott (https://myextralife.com) for his mighty fine voice work.
Don't forget to listen to all the great podcasts on the Frog Pants Network.
As always, you can find our show by clicking the link below, or if you want to take us with you,
you can download us from iTunes.