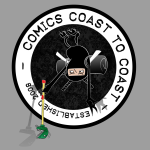 This week on Comics Coast To Coast we welcome Pab Sungenis (The New Adventures of Queen Victoria) back to the show to talk about some recent news.
Quick News:
DreamWorks Animation's Puss in Boots, in theaters November 2011
https://www.youtube.com/watch?v=JcxL43SircA
___________
Spider-Man: Turn Off the Dark (Musical)
Spider-Man: Turn Off the Dark," a $65 million musical, opened in preview performance on Dec. 18, 2010. The show, one of the most technically complex shows ever to be mounted on Broadway, has been plagued by delays and safety issues.
The official opening was pushed back repeatedly after a wave of accidents to actors. In March 2011, it was delayed yet again to allow more time for its creators to make improvements in the wake a near-universal drubbing from the nation's critics, who broke with tradition to review the show before its opening. The musical has become a national object of pop culture fascination — more so, perhaps, than any show in Broadway history. Despite its woes, "Spider-Man" has been among the highest-grossing shows on Broadway since beginning preview performances in November 2010, taking in $1.28 million in early March 2011.
https://topics.nytimes.com/top/reference/timestopics/subjects/s/spiderman_turn_off_the_dark_musical/index.html?inline=nyt-classifier
___________
KaboingTV & Frog In a Suit Launches Friday March 11th!
It's been over a year in the making, but the premiere episodes of Frog In A Suit are launching KaboingTV onFriday March 11th, starting with episode 34, with the following Fridays premiering Episodes 35 & 36. Tune in for independent film showcases as well as surprises.
These episodes would not have been possible without the Kickstarter backers who gave their generous support last year. There is some amazing animation from Jantze Studio, voice talents of Tom Kenny, Carlos Alazraqui and Jill Talley, Sound editing from Jeff Hutchins and music by Krandall Crews. Thank you all for making these episodes a reality.
Suzanne Kasch has set up a KaboingTV gift shop so check it out here and help support independent animation.
https://comicscoasttocoast.com/kaboingtv-launch
___________
Pearls Blows Up (Latest Pearls Before Swine Treasury)
Featuring every Pearls Before Swine cartoon from "50,000,000 Pearls Fans Can't Be Wrong" and "When Pigs Fly"
https://comicscoasttocoast.com/pearls-blows-up
___________
Main Topic:
Universal Uclick to provide syndicate services for United Media
Under the terms of a new outsourcing arrangement, Universal Uclick, the largest independent syndicate in the world and a division of Andrews McMeel Universal, will provide syndication services for the 150 news features and comics of United Media, which is owned by The E.W. Scripps Company.
Universal Uclick will provide editorial and production services, sales and marketing, sales support and customer service, and distribution and fulfillment for all the news features and comics of United Media, including Pearls before Swine, Get Fuzzy, Marmaduke, Frank & Ernest, the Born Loser, Big Nate and Miss Manners.
Scripps will continue to own certain copyrights and control the licenses for those properties, and will manage the business relationships with the creative talent that produces those comics and features. The transition of the services begins immediately and is expected to be completed by June 1, 2011.
"After we sold United Media's licensing operations in 2010 to focus on our core news and journalism enterprises, we set out to construct the best operating model for the remaining syndicate, whose primary customers are newspapers across America," said Rich Boehne, Scripps president and CEO. "A review of our operations – and the marketplace we serve – made it clear that we should seek greater efficiency by teaming up with one of the other remaining players. In Andrews McMeel we found the scale and skills to carry forward the comic properties we have nurtured for many years."
The Scripps Howard News Service, a leading syndicator of national news, in-depth reporting and analysis, will continue to be operated in Washington, D.C., by The E.W. Scripps Company, as it has been for nearly 100 years.
https://pressreleases.scripps.com/release/1189
A very special thanks to Justin Thompson (https://mythtickle.com), John (https://chippyandloopus.com), Sebastiaan for our mashup and Scott (https://myextralife.com) for his mighty fine voice work.
Don't forget to listen to all the great podcasts on the Frog Pants Network.
As always, you can find our show by clicking the link below, or if you want to take us with you,
you can download us from iTunes.