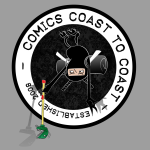 Peter Donahue joins Brian Dunaway, Joel Duggan and Matthew Ducharme to talk about his comic Rudek and the Bear, Zuzel and the Fox and all the things!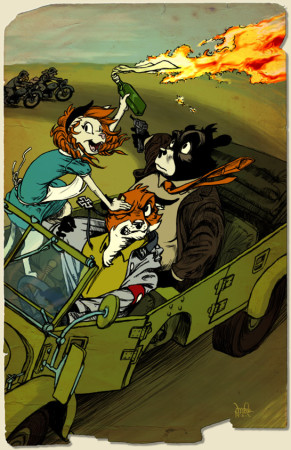 About the Comic:
https://zuzelandthefox.com/comic/?latest
Rudek and the Bear is a webcomic featuring anthropomorphic animals. It chronicles the shenanigans surrounding a company of soldiers in the Korpus Ochrony Pogranicza–the Border Protection Corps of the Second Polish Republic–in the year 1929.
https://zuzelandthefox.com/
What is Żużel and the Fox ?
Żużel and the Fox is a graphic novel I've been working on since 2011. I wanted to tell a good World War II story that hadn't been told before. And because I believe in the emotional effectiveness of anthropomorphism, I wanted to tell this story through talking animals.
About Artist:
https://www.kickstarter.com/projects/pdonz/rudek-and-the-bear-volume-1-in-print?ref=card
I started drawing the webcomic a year and a half ago. I wanted to refine my art and writing skills as I develop my first graphic novel,Żużel and the Fox. My style draws inspiration from illustrators like Norman Rockwell, animators like Milt Kahl, and comic creators like Juanjo Guarnido and Shane-Michael Vidaurri.
| | |
| --- | --- |
| ON ART: | |
| | |
| Descriptive blogging of your learning process as you did each comic. Was this primarily for the readers or a diary for yourself? | Brian |
| | |
| Do you make notes as you work or do you try to recall everything after the process? | Brian |
| | |
| How much time do you spend studying art compared to making it? | Brian |
| | |
| You are well versed in art terminology. Do you ever struggle with the form vs fun? or is form fun! | Brian |
| | |
| You chose a limited color pallete for your comic. Do you ever feel like adding a color? Subtracting one from the original pallete? | Brian |
| | |
| Early on in the comic, you seemed to be experimenting with with the look and feel. How close is the webcomic to your "default" style? | Matt |
| | |
| I noticed that when your characters are unclothed, they appear more animal than human (hooves instead of hands.) Concious choice? | Matt |
| | |
| MICKEY Shorts | |
| https://www.youtube.com/playlist?list=PLC6qIbU1olyXQe1WOKt8UJ4hErx3D7qt8 | |
| | |
| Your work (early work especially) has a "xerox" look to your inks. What was your process there? | Joel |
| — Any outside influences on this? | |
| | Joel |
| Can you share some of your comic (and animation?) artisitc influences? | |
| | |
| ON WRITING: | |
| | |
| You have picked quite a unique historical perspective. Care to explain yourself! | Brian |
| | |
| Do you ever find it to be a challenge to get into your character's heads? Different time. Different place. How do you stay true to that? | Brian |
| | |
| You are a pretty studious person. Would you say you are as aware of your writing as you are of your visual art? | Brian |
| | |
| You seem to be going for a rather authentic feel, not just in setting, but in comidic tone as well. How much reasearch do you do? | Matt |
| | |
| ON TIME: | |
| | |
| You stated in your KickStarter video that you created the webcomic Rudek and the Bear to help you prepare for your graphic novel. Do you think Graphic Novels are more demanding on your time and talent than webcomics? | Brian |
| | |
| How do you schedule your time to ensure the comic gets done? | Matt |
| | |
| ON CULTURE: | |
| Foxes are trendy right now. Have you seen casual googlers stopping by and saying stuff like "I like foxes" or "Foxes are cute" or "Foxes are badass" | Brian |
| | |
| You've done a lot of research concerning wartime tensions from the late 1920s. Do you see modern society repeating some of the mistakes we made almost 100 years ago? Does that ever bleed into the comic as you find irony? | Brian |
| | |
| Your comic is set in Poland. Have any fans from there? If so, have you gotten any useful input from them? | Matt |
| | |
| KICKSTARTER: | |
| | |
| You did it! Now what? | Brian |
| | |
| How much time did you devote to setting up the Kickstarter campaign? What was your primary strategy for it? | |
| | |
| MISC: | |
| | |
| You are an English teacher? Any opinions on loose vs lose? or are you pretty lose on the use of the word? | Brian |
| | |
| Tell me about Pear-Pear if you dare. | Brian |
| | |
| A good amount of Americans are turned-off by anything that appears too foreign. Has that ever been a concern of yours? | Matt |