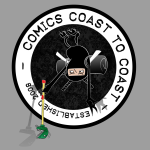 Brian Dunaway, Joel Duggan and Matthew Ducharme sit down to discuss comic books and how to get started reading them. Then we talk about everything else.
Article: How To Get Into (Marvel and DC) Superhero Comics
https://www.dorkly.com/post/69410/how-to-get-into-marvel-and-dc-superhero-comics
Brian's Notes
Are there any original ideas in comics now?
New Characters?
 What does the future hold?
Joel's Notes
Caldwell Tanner hired me to contribute some illustrations to the article.
Lead on the article was Nat Townsen
How to Read a Comic' (Spider-man stuff) illustrated by Andy Kluthe
All other illustrations by me – Joel
Banners and diagrams designed by John Fisk
Thought it was a well presented article – even though it was still quite funny and poked at some of the holes in superhero comics.
Multiverses, frequent reboots, some of the more colorful weird stories you have to sit through in between "the good stuff"
Batman 500 is weird.
Greg Cappullo can f%*%&$#ing draw!!! (This is not news. But needs to be said.)
Matt's Notes