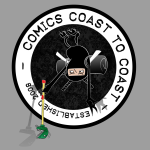 Daniel Lieske joins Brian Dunaway, Joel Duggan and Matthew Ducharme to talk about his webcomic Worm World Saga and to get us up to date on his latest projects.
Comics Coast to Coast History
Daniel was previously on Episode 187 where we talked a great deal about The Wormworld Saga and it's origins.
https://comicscoasttocoast.com/podcast/comics-coast-coast-187-daniel-lieske-interview/
The Wormworld Saga
https://www.wormworldsaga.com
About Artist:
https://daniellieske.com/about.php
My name is Daniel Lieske and I was born in 1977 on the edge of the Teutoburger Forest in Germany. I started my 'art career' quite early by selling my first comics on the schoolyard. Since then my passion is to entertain people with stories and artwork.
My wife, my son, our two cats and I settled down in the small German city of Warendorf. There we live in a historical frame house in the old town. In a secluded corner I built my studio in which I work on my projects.
About The Comic
https://daniellieske.com/about.php
Today I'm working fulltime as a graphic novel author and illustrator. I also do lectures, talks and workshops about graphic novel creation, independent publishing and digital art on the side. If you'd like me to appear at your event please find my contact information at the bottom of this page.
My workspace is 100% digital. All my drawings and paintings are created on a PC with graphic tablets and pen displays from Wacom. On the software side I mainly use Adobe Photoshop and Pixologic ZBrush for my work. These are great tools for artists and working digitally gives me a lot of creative freedom and also speeds up the overall process of making images. By using graphic tablets I can still hone the traditional skills of drawing and painting but without having to clean brushes or waiting for paint to dry.