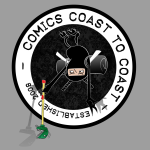 Wesley Hall joins Brian Dunaway, Joel Duggan and Matthew Ducharme to talk about his webcomic Nameless PCs.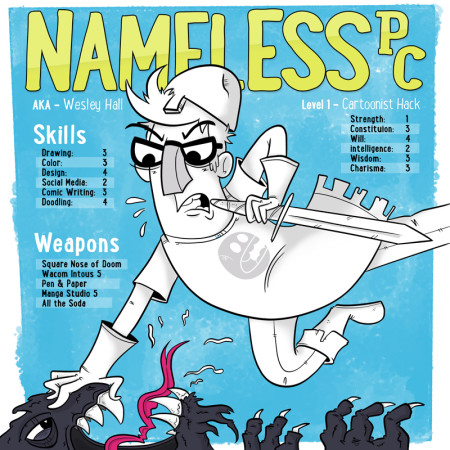 About the Comic: Nameless PCs
https://namelesspcs.com
https://namelesspcs.com/?page_id=2
Part 1: The Beginning
Nameless Player Characters (AKA Nameless PCs) started because of a tweet. Chris of WeXogo.com was offering a free set of dice to anyone who retweeted his tweet. I did such a thing got a set of dice and began to checkout his website. There I saw he was looking for some people to write and do illustration for his site, so I submitted some stuff to him, and he liked it. He said I should write about my campaign or do a webcomic, the webcomic sounded fun, but I knew I couldn't do it alone. So I asked my brilliant and hilarious friend Matt Roberts if he would be interested in writing it. He was, and in late 2010 Nameless PCs was born!
The comic continued on in this way (with a few hiccups) until late 2012 in which Matt Roberts left the comic due to time constraints.
Part 2
That's where I (Wesley Hall) picked up the writing and drawing reigns. At first, I was set on continuing with the characters Matt and I had created together, but it just didn't feel right, about that time I crashed our old site as well, and began putting up my comics on tumblr, and playing around with different art styles and characters and it kinda morphed into the journal comic that it is today. Exciting eh?
| | |
| --- | --- |
| ** Since Nameless PCs has a bit of an explination and history, I thought we'd ask Wesley to explain it rather than read too much from the blurb. | Joel |
| | |
| Do you miss having a writing partner? Or screw him…you write the funny words now! | Brian / Matt |
| | |
| One of the first thing I noticed about Namless PCs was your color choices. Is there a method to the madness? Anything or anyone in particular inspire the colors? | Joel |
| | |
| You have a pretty consitent game of "Name This PC" going on in your blog. Do you find the internet to be fairly clever when it comes to naming stuff? | Brian / Matt |
| | |
| You're not shy about blue langage in the comic. Has this ever bitten you in the ass? | Joel |
| | |
| You poke fun at religion too. That's usually a "no-no". Spark any fires? | Joel |
| | |
| What is your writing process? | Joel |
| | |
| Nameless PC.. it sounds like you might be some sort of gamer or something. Favorite game of all time…go! what are you playing now? | Brian / Matt |
| | |
| Hey, you drew all the presidents! Who was our ugliest leader? physically, I mean. | Brian / Matt |
| | |
| How did your wife react the first time you drew her as a cartoon in the strip? There's a comic, but I feel a larger story lurking in the background. | MATT |
| | |
| I feel like there is another story behind the design of your nose in the comic, yes? | Joel / Matt |
| | |
| A number of artists we have interviewed in the past year have been simultaneously posting on Tumblr. How has posting on Tumblr effected Nameless PCs? Increase in readership? Feedback? | Joel |
| | |
| I really like your Tumblr theme. How hard / how important is it to have a good Tumblr theme? Ultimately most people likley see your posts through a Tumblr app of one form or another… | Joel |
| | |
| Ever thought about making the T-shirts that you draw yourself wearing? | Joel |