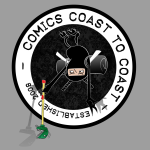 Meredith McClaren joins Brian Dunaway, Joel Duggan and Matthew Ducharme to talk about her illustration career and to fill us in on her webcomic Hinges.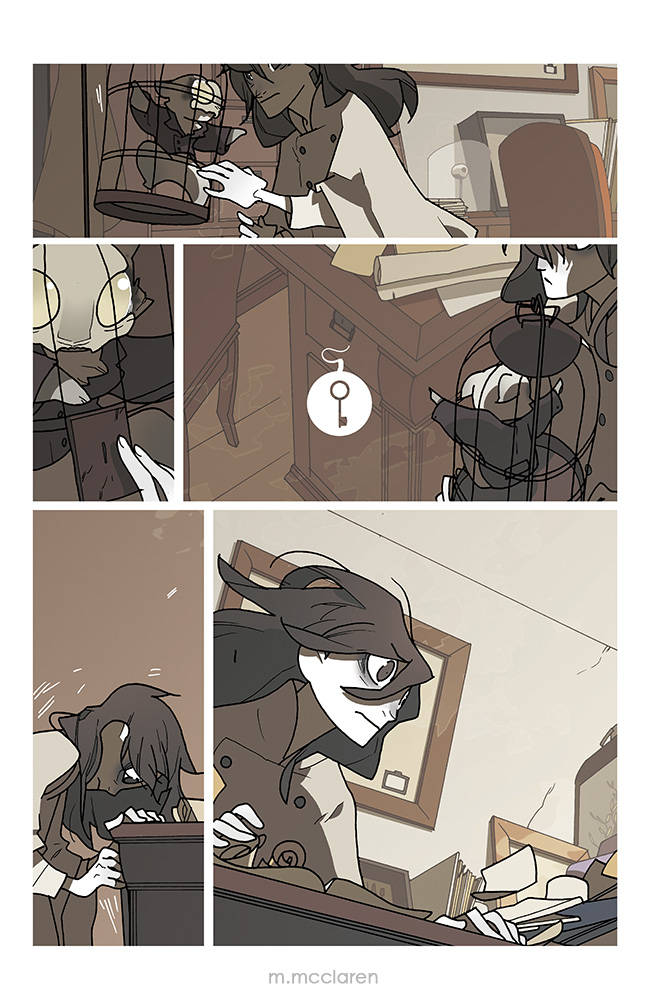 Hinges
https://hingescomic.blogspot.ca
About The Artist:
https://hingescomic.blogspot.ca/p/about.html
Meredith McClaren is an illustrator and cartoonist who has no business doing either. She sometimes entertains the idea of drawing the fourth book in Jen Van Meter's Hopeless Savages series. Supposedly she has a postal code in Arizona, but really, she could be anywhere.
Oh. And don't touch her stuff. Seriously.
| | |
| --- | --- |
| Your color choices are very subtle. What are you thinking as you choose your colors? | Joel |
| | |
| The backgrounds in Hinges are incredibly detailed in most shots. Are you using any tools to keep things so tight? | Joel |
| | |
| With your main character Orio so quiet at the start (104 pages without a word) you achieve a lot with panels and pacing. What are your comic influences? Anyone in particular spark the minimal dialogue approach? | Joel |
| | |
| Fun design work on the Bauble dream back story (p24). What prompted that shift in design? | Joel |
| | |
| Over the course of the comic you seem to be hitting quite a few conventions. How do you find that experience? Worth the effort and expense? | Joel |
| | |
| Are you writing Hinges as you go? Do you have a loose outline? Or a tightly honed plan? | Joel |
| | |
| What are some of the challenges you've faced drawing Hinges? (Layout? Character design?) | Joel |
| | |
| Did Hinges start with a character doodle? Bauble perhaps? Or did you come up with more of the story at one time? | Joel |
| | |
| You published the first book for HInges last year (May 2013) through a Kickstarter campain. Was that your first Kickstarter as well? What was that like for you? | Joel |
| https://www.kickstarter.com/projects/225641773/hinges-book-1-clockwork-city | |
| | |
| I noticed on Hinges Book II: Paper Tigers that you have original line work for sale. I was thinking digital the whole time I read Book I. Can you fill us in on your working process? | Joel |
| | |
| Did you excel at art collages in school? | Brian |
| | |
| You are not afraid to intersect your lines. I can't help but to think this helps your speed. | Brian |
| | |
| So really…what's up with the Hinges? are they marrionettes? is it a metaphor for an oppressive regime? | Brian |
| | |
| Did you study a lot of about marrionettes? any passion there? | Brian |
| | |
| Are you a Studio Ghibli Fan? | Brian |
| | |
| How many Odds have you designed? | Brian |
| | |
| Tell us as about your illustration work. You recently did some artwork for Adventure Time. Tell us about that. | Brian |
| | |
| How was Emerald City Comic Con? | Brian |
| | |
| Tell us about your Itties. | Brian |
| | |
| I think you guys pretty much have everything covered. I'll just chime in if I think of something. | Matt |
| | |
| https://thoughtbubblefestival.com/ | |