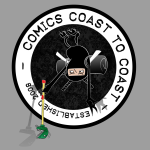 On this episode of Comics Coast to Coast we talk to Ian Higginbotham of IanLaser.Com about his work on Vimeo, his art and color style, his training in NY to be an illustrator and much much more.
About:
source: https://ianlaser.com/about/
Ian Higginbotham likes to make pictures. He's worked in the illustration and animation industry.Companies he's worked with include: Random House U.K., Vimeo, Titmouse, Blue Sky Studios, Kill Screen, Time Out New York, Bracket Inc. etc.He is currently living in New York City drawing and drawing and drawing. He likes watching movies, eating, reading, dogs, and going for an occasional jog.In the 2011 he was honored with receiving the gold medal for the "Society of Illustrators 54" competition.
Show Notes:
You have a pretty excellent personal website. However, Tumblr seems to be getting more of your blog action. What's up?
Do you see a shift from personal websites to Tumblr type services? How do you feel about imgur?
You have some animatics on Vimeo. Like The Wizard and Elf. Are these part of a project/job or are you just staying sharp?
Tell me more about TheParty Story.
Corpse Puncher. Tell me more about it.
What are you using to animate? illustrate?
Planning anything good for Halloween?
miami connection
Gradiated (<- is that a word?) Color Scheme
Just brain farting here. Some of these questions will stay…some will not.
The Importants of stretching! All cartoonist should do yoga! Or something similar.
Space and the night sky seem to be a recurring theme in your backgrounds. Astronomy fan?
The Catch 22 animation is brilliant. The realistic rendering seems a bit of an exception to your typical style. Was it against your grain?