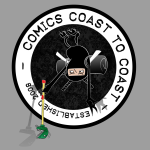 Nicolas Fisher joins Brian Dunaway and Matthew Ducharme to talk about his wonderfully pessimistic webcomic about an optimist; Kevin & Friends
This slideshow requires JavaScript.
About the artist:
I was born in Montreal Canada, 10th in a family of 12 kids (same parents) and grew up there until I left home when I was 15 to do volunteer work in North Carolina with my older brother. My parents were super religious and I had a very religious upbringing. Growing up we never talked about things like depression or anxiety which are some of the main focuses of my comic, we were taught that it was all the work of the devil and to rebuke those thoughts when we had them ha. I've always been very artistic and have tried a bunch of different things to fill that artistic void but none of them really stuck until Kevin and Friends. Kevin kind of helps me express my fucked up sense of humor and i'm just happy other people appreciate it too. Now I am married to my beautiful wife of 9 years, Sara who appreciates my humor and actually helps me out with some of my work on Kevin & Friends. Together we have 2 awesome kids ages 7 and 2. Which is the reason I'm currently living in Spain since most of her family lives here and have been a huge help with the kids. I work from home so relocating isn't really an issue work wise and living in Spain has been amazing. I have a full time job apart from making comics but I'd love to be able to make a living from doing Kevin & Friends but so far it hasn't really generated much income.
About the work:
Kevin actually was originally a graphic I did for an infographic on a singaporean financial website for social security. The project got trashed and I had all the files for Kevin just kind of lying around on my computer. Then I had the idea to put together a couple comics with those materials. The comics would start with a close up of kevin saying something like "haha I can see my breath" and then in the second panel it would reveal he was on a piece of debri or something with the titanic sinking and hundreds of dying people beside him. I kind of relate to Kevin a little in the way that I tend to bury my emotions and act like everything is fine. Ofcourse Kevin takes it to the extreme. I base most of the comics off the fact that kevin is "Horribly optimistic" and can find the silver lining in any situation. I have a pretty small following as of now but I'd say I got most of my recognition after my comics went viral the first time on Bored Panda. I think Bored Panda is a great way to get your work out there seeing as if you're featured or trending on their site most of the comedy sites on the internet will copy the material onto their sites.
Where to find: Social media links, etc.
https://www.kevinandfriends.com/
https://www.instagram.com/kevin_and_friends/
https://www.facebook.com/kevinfriends/
Questions and Comments: (add your stuff here)
A quick breakdown of the interview: 15 min guest intro. 15 min guest project. 15 min topic discussion. (Related to guest if possible.)
Welcome Nicolas, thank you for taking the time to talk to us. Can you please tell us about yourself and your delightful comic Kevin and Friends?
Where is the best place for people to follow your work?
I noticed you have an article on Bored Panda (boredpanda.com) for Kevin and Friends. I love Bored Panda! I have wasted a lot of my life there as a reader. But never as a writer. How does that work? How did it fit in your master plan?
Do you have a preferred Social Media/Comedy Blog Site for publishing your work?
I noticed on your facebook page for Kevin and Friends that a lot of your readers are tagging friends in the comments as if to say "This is sooo you Tammy!" Nicolas, do you consider your comic universally relatable?
Do you believe most people are inherenlty pessimistic or optimistic?
Do you redraw Kevin for each panel/comic? Or do you have a template?
What tools are you using to create Kevin and Friends?
I love your sense of humor. Everytime I think I have you figured out you step to the side and punch me in the face. Can you tell us about your writing process?
How important is a sense of humor in a religious family?
Do you have any more comics waiting to please us due to failed infographics? Or any other upcoming or current projects you would like to share.
Are you reading any comics?
Have you seen Black Panther? No Spoilers if you have! But what did you think?
MENTIONS:
Dave Kellett has a new Kickstarter
https://www.kickstarter.com/projects/smallfish/pugs-unleashed
Pay It Forward:
JoJo Emmet
1,024 Followers, 416 Following, 176 Posts – See Instagram photos and videos from Joey Paone (@jojoemmet)