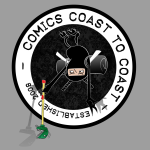 Join Brian Dunaway and Matthew Ducharme as they deliver a mixed bag of comic news and recommendations on this week's episode of the webcomic podcast Comics Coast To Coast.
Show Note & Links
What we are reading:
Brian: Marvel-Graphic-Novel-Issues-Book
No Description
Matt: NPR 100-favorite-comics-and-graphic-novels
https://www.npr.org/2017/07/12/533862948/lets-get-graphic-100-favorite-comics-and-graphic-novels
Is Logan truly back? This May, the hunt continues across the Marvel Universe!
Yesterday, DC Comics creative freelancers received a mass e-mail covering their activities on social media. While I understand that this kind of thing has been an increasing concern in recent years, I understand that this is happening right now as a result of the actions and internal company employee reactions and concerns reported by Bleeding Cool over artist Ethan Van Sciver's social media activity.
https://majorspoilers.com/2018/02/15/solicitations-dark-horse-celebrate-40-years-elfquest-final-issue-release-elfquest-final-quest-24/
Collection Period: June 4th, 2014 to ongoing. This collection focuses on comics created specifically for the web and supplements the Library of Congress' extensive holdings in both comic books, graphic novels, and original comic art. Webcomics are an increasingly popular format utilized by contemporary creators in the field and often includes material by artists not available elsewhere.
Here's concept art for 'The Incredibles 2,' which opens June 15, 2018. (Photo: Pixar) Long before Iron Man wore his suit and Captain America wielded his shield on the big screen, there was an Oscar-winning animated film about a family of superheroes. Remember The Incredibles?