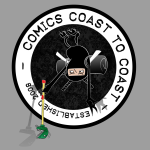 O Abnormal joins Brian Dunaway, Joel Duggan and Matthew Ducharme to catch us up The Ministry Of Abnormality and Twitch.TV
This slideshow requires JavaScript.
CC2C Guest History:
This is our 3rd chat with O Abnormal (aka SERGIO VILLA-ISAZA) Previously on Episode(s) 83 and 136.
About the artist:
Fantasy and Scifi artist O Abnormal (Sergio Villa-Isaza) studied graphic design. Upon graduating, he decided to focus on his lifelong passion: illustration. Starting as an online commission artist in 2003, O has worked for numerous individual clients and companies. These include Wizards of the Coast, Mongoose Publishing, XBOX and Nike. Along the way, he has also published several independent products such as webcomics, board games, card decks, and numerous books.

In 2005, O discovered his other passion, teaching. He has been working with Universidad Pontificia Bolivariana (Medellín, Colombia) ever since. During his time there, O taught editorial design and basic Illustration. O currently directs the Digital Illustration program in Graphic Design.

While he loves pencils and watercolors, O works primarily in digital mediums. He has developed a style that focuses on detailed images with an emphasis in complex illumination and perspective.

In 2015 O started producing his artwork live on Twitch.tv, and has since then become a partnered streamer. His daily streams may be found at www.twitch.tv/oabnormal.

When he's not producing art or teaching it, O enjoys motorcycles, video games, reading and spoiling his cats. He currently lives in Colombia, South America.
About the work:
https://www.theministryofabnormality.com
Where to find: Social media links, etc.
https://www.theministryofabnormality.com
https://twitter.com/oabnormal
https://twitch.tv/oabnormal
Show Notes
Oh hi O. It's been a while. Would you mind reminding our listeners who you are and what you do?
Beard or no beard? Bald or no Bald?
Draw with me Friday's on Twitch. Tell me all about it. That is a lot of participation! How do you pick the topic?
You are on Twitch everytime I turn on Twitch. When did you start getting so Twitchy? Tips for other artists?
You have been building your community for as long as I have known you. It used to be forums. Is it mostly Twitch & Discord now? How do you keep a community vs an audience?
You are teaching. Tell us more about your life as a teacher.
What Video Games are you playing?
What Movies are you watching?