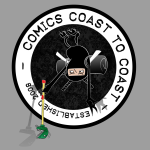 Fran Krause joins Brian Dunaway, Joel Duggan and Matthew Ducharme to talk his Deep Dark Fears and more.
Listen Above or Watch Below
VIDEO COMING SOON
This slideshow requires JavaScript.
About the artist:
Fran Krause is an animator and comic artist. He currently teaches at CalArts in Los Angeles, and has worked on Blue's Clues, SNL TV Funhouse, Little Einsteins, Superf*ckers, Superjail!, and many commercials and weird random jobs.
He currently makes a comic called "Deep Dark Fears" where he draws fears and nightmares that are sent to him by his readers.
About the work:
https://deep-dark-fears.tumblr.com
frankrause.com
Where to find: Social media links, etc.
https://society6.com/deepdarkfears
https://twitter.com/deepdarkfears
https://www.instagram.com/deepdarkfears/
https://deep-dark-fears.tumblr.com
https://www.facebook.com/deepdarkfearscomics/
Show Notes
Hey Fran! Thank you for taking the time to be on our show. Can you tell us a little bit about Yourself and your Deep Dark Fears?
Do you do requests? Of course you do! How much of your comic is based on request vs your own fears? Has this changed over time?
https://deepdarkfears.com/submit/
Have you found most fears you illustrate are universal across gender, race and nationality?
I noticed you have translations in a lot of languages. Are those translations literal or are they modified to fit the region?
Any fears you refuse to tackle? Like too offensive, too specific or too political?
What fear(s) have resonated most with your readers?
What inspired you to take on the role of internet comic psychiatrist? Are you trying to heal the internet by facing one fear at a time? Why a comic?
You have a book! The Creeps. What can I expect to see?
Most of your comics are 4 panels. What is the process you take to convert a submission into a well paced comic? Is it just a knack? or do you have a system?
Tell us about your art process? Are you traditional or digital? Or Both?
Let's talk shop. Tell us some specifics about the medium(s) you use
How long does it take to produce a comic from submission to comic? Do you have a backlog?
A lot of our listeners are drawing while consuming this podcast. What do you listen to when you draw?
I read you like to work small. Are you afraid of your own art? Why small?
What is your Deepest Darkest Fear? Or are you too afraid to say it out loud?
Are you classically trained or did you make some sort of deal with a guy at the crossroads? How important is art school for aspiring cartoonists in your opinion?
Tell us about this! -> has worked on Blue's Clues, SNL TV Funhouse, Little Einsteins, Superf*ckers, Superjail!, and many commercials and weird random jobs
What was your role on SNL TV Funhouse? That is a favorite of mine.
Speaking of SNL…Did you see the David S. Pumpkins special? What did you think?
Have you seen the Dana Carvey Show documentary on Hulu?
Do you teach? I heard you teach. What you teaching teach?
Do you have any tips for aspiring cartoonists listening to the show?
The LAST Question… Ever… (Pay It Forward)
Can you share an artist you are a fan of for our listeners to follow?
Where can we find their work online?
Ru Guata – TinyInventions.com
TinyInventions.com
Hill Farm by Mark Baker
Hedgehog in the Fog
Creator Time:
Thank you so much for being on the show GUEST… Where can our listeners:
See your work online?
Support your PROJECT / purchase your PROJECT?
What's the best way people can follow you online? (Twitter, Facebook, etc.)
NEW! Next time on Comics Coast to Coast:
Next week our guest (topic) will be:
Paul Gill
The Drawbrdige
https://PaulGill.com