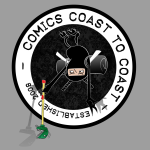 Cedric Hohnstadt joins Brian Dunaway, Joel Duggan and Matthew Ducharme to talk about his work as an Illustrator, Cartoonist, Character Designer for Toys and More
Listen Above or Watch Below
This slideshow requires JavaScript.
About the artist:
https://www.cedricstudio.com/about/
I started doing some freelance work while I was still in college and I've been self-employed ever since. I've worked hard to build a reputation for being professional, reliable, and easy to work with.
I've worked on hundreds of client projects both as an artist and as a project manager supervising other artists. I've helped design toys for Disney and Hasbro; illustrated packaging for Cocoa Puffs, Gogurt, and Orville Redenbacher; created advertising comps for Coca-Cola, Target, and Best Buy; supervised animation of Mr. Potato Head for the Hasbro website; and designed characters for VeggieTales.
About the work:
https://www.cedricstudio.com/sketchbook/
https://www.sketchbooksilliness.com
Where to find: Social media links, etc.
https://www.cedricstudio.com
https://www.sketchbooksilliness.com
https://twitter.com/cedrichohnstadt
https://www.instagram.com/cedrichohnstadt
https://cedrichohnstadt.tumblr.com/
https://www.facebook.com/cedricstudio
https://www.youtube.com/user/cedricstudio
SHOW NOTES
Sketchbook Silliness
Tools of the trade. Are you working traditionally or (gasp) faking it with Photoshop?
Commercial Illustrations
Growing up as an aspiring cartoonist I always thought of doing Children's Book Illustrations or Greeting cards but I never really considered Cereal Box art. Despite the fact I am fascinated with Cereal Box art. What does it take to succeed in that field?
How much freedom/involvement do you have with the creation of story/games on cereal box art? Do you have an "Editor?"
Love your toy design work. Can you tell us about the process?
Do you prototype the toys at all? What have you learned about "What to do and not to do?" Do you have a 3d Printer?
Freelancing
I've also given lectures in the past about the business side of freelancing so I can talk a little about that if you want. I even have a webinar about it available here: https://taughtbyapro.com/course/be-your-own-boss-freelancing-tips-tricks/ And a few years ago I did a Kickstarter for the Pose Drawing Sparkbook, a "super charged sketchbook" designed to help artists work on putting more life and personality into their characters. More info here: https://cedricstudio.com/sparkbook/
Patreon
Tell us about your Patreon experience so far.
FAITH
Handle with care?
Teaching
Tell about yout Pose Drawing SparkBook.
You have a Webinar. Can you tell us more about that?
General News
Anyone else pretty stoked that Adobe CC members now have access to ALL of Kyle's brushes? (Downside, you have to use PS 2018.)
Deeper Thoughts (optional)
How to be more socially aware while creating content. Is common sense enough & how to respond when you have made a mistake. 🙂
Kellogg's Changing Corn Pops Box After Its Design Was Branded Racist on Social Media
https://people.com/food/kelloggs-backlash-corn-pops-accused-racism/
Can you share an artist you are a fan of for our listeners to follow?
Two guys (for different reasons): Jim Benton and Adam Ford
https://www.jimbenton.com
https://adam4d.com
Creator Time:
Thank you so much for being on the show GUEST… Where can our listeners see your work online?:
https://www.sketchbooksilliness.com or cedricstudio.com
Support your PROJECT / purchase your PROJECT?
I'm getting ready to launch a Kickstarter for my first book of cartoons. Sign up to get notified about launch day at my website. Can also sign up to have new cartoons sent to your inbox for free. Or follow me on social media. All at https://www.sketchbooksilliness.com.