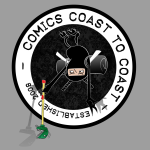 If you would like: SUPPORT THE SHOW -> https://patreon.com/comicsc2c #ALittleLoving
Clio Chiang joins Joel Duggan and Matthew Ducharme to talk about her career as a story artist and freelance illustrator
This slideshow requires JavaScript.
About the artist:
Clio Chiang is a story artist and freelance illustrator from Vancouver, BC. She lives in Los Angeles with her husband and two furchildren. She has contributed to the films Winnie-the-Pooh, Paperman, Frozen, Feast, Kung Fu Panda 3, and Trolls.
Selected clients include: Walt Disney Feature Animation, Dreamworks Animation, DC Comics, Cartoon Network, Mattel, Leapfrog, and Marvel Comics.
About the work:
https://www.cliochiang.com
Where to find: Social media links, etc.
https://www.cliochiang.com
https://twitter.com/cliobablio
https://www.instagram.com/cliobablio/
https://blog.cliochiang.com
https://vimeo.com/user32693855
SHOW NOTES
The Basics
Clio, can you take a moment to fill our listeners in on who you are, and the kind of work you do?
Have you ever worked with our friend John Sanford?
What is your favorite thing about being a story/sequential artist?
Did you go to school specifically for storyboard/story art or did you start off on another path?
You have a very naturally rough style. Is that look natural to you, or did you cultivate it?
Animation Questions
How active is the director in the storyboarding process? How many other team members are involved?
Once you finish your storyboards for a project, is that the last time you touch that particular sequence?
On your movie projects, what percentage of the movie do you tend to board out, on average?
How often do you have to revise sequences?
Book Project
When I first reached out to you about CC2C you mentioned a book project. Can you tell us a bit about what you have planned?
Do you have a timeline or are you still in early planning stages?
The LAST Question… Ever… (Pay It Forward)
Can you share an artist you are a fan of for our listeners to follow?
Where can we find their work online?
Fawn Verson-Thorne (sp?)
Norman Lemay (of GirzAndNorm)
John Ripa
Mark Kennedy
Manu Arenas
Lissa Treiman