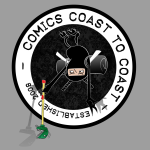 John Loren joins Brian Dunaway & Joel Duggan to talk about Character Creation, Storytelling, Animation and Illustration.
This slideshow requires JavaScript.
The Comics Coast To Coast John Loren Interview (Character Creator)
About the artist:
https://johnloren.carbonmade.com/about
John Loren is an artist who is passionate about storytelling and fun. He has worked in video games, illustration, TV story development, and comics and loves to work on projects that emphasize new art styles and humor.
About the work: Some clients of note…
Hasbro
Electronic Arts
Riot Games
CloudKid
Subatomic Studios
Magical Time Bean
Hero4Hire
Molly Rocket
Where to find: Social media links, etc.
https://johnloren.carbonmade.com
https://twitter.com/johnloren
https://instagram.com/johnlorenart
https://johnloren.tumblr.com/
(none)
Show Notes:
What was your role and experience like on The Dawngate Chronicles?
We have had Nicolas Kole on the show before. Did you enjoy colaborating with him?
Dawngate was short lived. Were you sad to see it go? Or, was it time to move on?
Do you think artists benefit more from having one, long term project that defines them online? Or multiple smaller ones?
Can you walk us through your (average) process for coloring a piece or comic page?
How long does each piece take? I mean these are little masterpieces. Surely you labor over them for weeks. Better be weeks.
What is your favorite kind of character to draw?
When creating characters for storytelling. Do you write first or draw first? or both! Tell me how you are inspired to take that first step!
This used to be a regular question on CC2C and I'm bringing it back! What do you listen to while you art it up?
Back in Feb, you promised me an artbook and told us to "hold you to it." Gimmie your feet. I got some fire for them
How do you handle color when you are using such a rich palette of color. Do you just slap some black on there and slide the opacity layer?
You are hosting your illustrations on the usual social media sites but you also have a CarbonMade Portfolio site. Hassle Free? Benefits? Sales? Networking?
Regale us with stories from the The Maine Comics Arts Festival. How much Moxie was consumed?
Can you tell us about 1935?
How does a respectable artist survive being a dog lover in this day and age of internet cats?
The LAST Question… Ever… (Pay It Forward)
Can you share an artist you are a fan of for our listeners to follow?
Where can we find their work online?