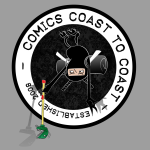 Jay Myers joins Joel Duggan & Matthew Ducharme to talk about his comic The Adventures of Tomy and Jon as well as his  Illustration work
This slideshow requires JavaScript.
About the Comic:
The Adventures of Tomy and Jon
https://www.tomynjon.com
About Artist:
Jay is a writer and illustrator of stories, myths and adventures.
I am a UX Designer Full-time
https://www.mrjaymyers.com
https://instagram.com/mrjaymyers
Show Notes:
Can you tell us – and our listeners – a bit about yourself and what you do?
Did the events of 911 have a direct effect on your move from illustration to UI/UX?
What are your go to drawing tools right now?
How do you get such great, dramatic ink effects and splatter?
Any particular workflow you find working for you these days?
You have a wonderfully loose style. What rules do you follow to acheive those results?
I love the inktober 2013 artwork on your site. How long did each illustration typically take?
There appears to be a reoccuring Western theme to a lot of your work. Are you simply a fan of that setting/time period?
Tommy And John