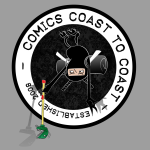 Robb Mommaerts drops by to talk to Brian Dunaway & Joel Duggan about RobbVision, Illustrations and more on this episode of Comics Coast To Coast.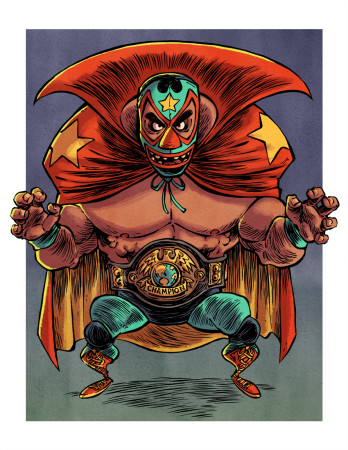 About the work:
https://RobbMommaerts.com
https://Robbvision.com
Both will just take you to my blog at robbvision.blogspot.com
My Deviant Art page is:
robbvision.deviantart.com
About Artist:
Robb is an illustrator, cartoonist and graphic designer based out of the United States. I'm married with two children. My daughter is seven and my son is almost five. My wife is a physical therapist which helps because my posture is all messed up from working at a computer and drawing desk. I love the outdoors, wildlife, historical stuff, dinosaurs & paleontology, old sitcoms and cartoons…Star Wars.

I work remotely for Cryptozoic Entertainment located in Californina, but I live in Green Bay Packer territory and deal with the cold winters.
| | |
| --- | --- |
| You have a wonderful, loose inking style. Can you tell us about your favorite tools? | Joel |
| Most of my work is done traditionally with a brush and india Ink, and colorized via Photoshop. I ink with Winsor Newton Series 7 brushes. I still use a mouse to color 😉 I have not upgraded to the tablets yet…jsut nervous about making the jump. | Robb |
| | |
| It's like you took the forms and getstures of a Hanna-Barbara cartoon and merged it with a Suessian ink style and colored that bad boy up with colors from classic sci-fi pulp art and placed the whole thing in some part dream, part nightmare repressed childhood memory. and I'm loving it. | Brian |
| | |
| I feel like there is a distinct shift in your work (ink) around the end of 2009 / start of 2010. Do you remember? Was this a conscious effort? | Joel |
| YES! Good eye!! I think this is when i wanted to speed up my process and walked away from watercolors. I had been hand painting everything and it was so hard to makes edits (ugh…watercolor) so i srted going back to my comic book roots, but wanted to give things a more "painterly " look so i started inking with a brush nd used lots of textural little brush strokes. i'm not the best digital painter so I could not replicate what I was doing with the watercolors. Plus i'm a big fan of the traditional stuff and like artwork to hand and sell to toehrs…or trade. | |
| | |
| Can you walk us through some of your process when inking and creating texture on a character? | Joel |
| I try to create as much texture and movement as possible without overdoing it. VanGogh is a big inspiration 🙂 I bring bitmapped ink scans into photoshop. select as a Channel and color certain elements to create more depth. I use Winsor Newton brushes with India ink on bristol. | |
| Do you prefer working in black and white, or color? | Joel |
| I'd have to say b&w! Less time consuming, plus I like simplicity. I try to make most of my images work as standalone BW images before coloring. But I do love color…but i'm a bit slow with it. that is why i always enjoy participating in "Inktober" every Fall. | Robb |
| | |
| What artists/artwork have been an inspiration do you? | Joel |
| There are too many to mention! I'd have to say Jack Davis, Mike Mignola, William Joyce, Marc Davis (who I had admired for years and did not know his name until fairly recently). Floyd Gottfredson, Carl Barks. Anything Jim Henson related. Henson is a huge influence that goes back to my toddler days. | Robb |
| | |
| I first found your work on DeviantART, something that's happening more and more on this show. How has your experience been on DeviantART? | Joel |
| Deviant was a HUGE game changer for me, I started a page after meeting a group of guys (guys from an online group named SketchTavern) at Wizard World Chicago and showing them my work because I had admired their work so much. They advised me to get a page up and running. After that I had made a lot of friends and contacts. A whole new world opened up. My daughter was born about a year later and my personal art time was cut back drastically after that and I slowly have drifted away from Deviant Art Activity….hoping to get more involved in the future. So far Facebook has taken over a bit, and a lot of my "closer" artist friends from Deviant I have on Facebook, so I've been sort of floating over there since a lot of my non-art friends and family are there too. | Robb |
| | |
| I got my job with Cryptozoic because Cory Jones saw my work on Deviant and hired me for a freelance project. I met so many artist friends of mine through that site. I also picked up a lot of freelance that way as well. | Robb |
| | |
| Cryptozoic projects I've been part of: • Lookouts comic series (6 issues) • Food Fight Game • Adventure Time Card Wars • Ghostbusters • HEX: Shards of Fate | Robb |
| | |
| Recent Independent Projects: | |
| • Frostbite (children's book by writer Julia Dweck | Robb |
| • Cows Just Moo (children's book by writer Julia Dweck…in the works) | Robb |
| • I HATE ZOMBIES! Kickstarter through BoardGameGeek.com | Robb |
| Comic book covers for Boom!, Otis Frampton's Oddly Normal, Shrek series comics with Ape Comics | Robb |
| • Stan Sakai Project through Darkhorse Comics | Robb |
| | |
| Looking back, your work on Frostbite is what prompted me to follow you on DeviantART. What was working on a small published project like? | Joel |
| awesome! I had a lot of creative freedom with this and Julia and her husband Sheppard let me run with the ball. working withthem has been a collaborative effort. My smaller press projects in the past have been similar! | Robb |
| | |
| More and more artists we talk to have been involved with a Kickstarter campaign in some way. What did you take away from I HATE ZOMBIES?/ | Joel |
| I was independetantly hired by a friend that works for GameboardGeek.com so my experience with KS is limited. Somehting i want to learn more about, but sounds like its a ton of work and a huge commitment | |
| Norton's Battle Pug. Fosgit's Bodie Troll. Disney. Mainstream comic characters. What are your thoughts on fanart? | Joel |
| I love fanart but do not do it as much. for those things (other than Disney) it was for creators I know to do for fun. Jay actually asked me to do a pinup for his book, which i was super excited about. I try to do stuff that I can use on my woen without getting permission…or getting sued, so i tend to avoid fan art. HA! the Star Wars stuff I've done is for a Belgian fan club called TeeKAY. I love fanart and creating my own version of a well-know character, the Disney stuff i did after visiting Disney world with my family. i was super inspired after leaving and started reading all the old Disney comics by Gottfredson and Barks | |
| | |
| If you could have your choice of IP to be hired to work on, what would it be? | Joel |
| TOUGH QUESTION! Probably…Star Wars…and other things from my childhood…vintage Hanna Barberra stuff like Flinstones, Thundarr the Barbarian…Muppets…Masters of the Universe…Popeye | |
| | |
| M.U.S.C.L.E. Men | Brian |
| https://mentalfloss.com/article/31625/brief-history-muscle-figures | |
| https://amzn.to/1Kevkm2 | |
| | |
| Battle Beasts | Joel |
| https://en.wikipedia.org/wiki/Battle_Beasts | |
| | |
| Alfredo Alcala | |
| https://he-man.wikia.com/wiki/Alfredo_Alcala | |
| | |