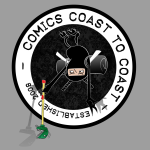 Jules Faulkner joins Brian Dunaway, Joel Duggan and Matthew Ducharme to talk about ending her webcomic Promises Promises and her new webcomic Knight and Dave.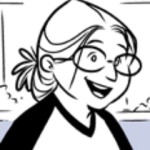 About the Comic:
Knight & Dave
https://www.knightanddave.com
Opposites don't attract so much as follows each other around being contrary in the fairy-tale kingdom of Weetharyeht.
Join in the adventures of the gallant, if a little stuffy, Sir Iris and his reluctant sidekick, a goat called Dave (who sometimes needs a little help to get by in a world that finds him delicious).
Whether they're fleeing pirates, slaying dragons or bribing a kraken at least they have each other… which is probably what got them into that mess in the first place.
About Artist:
According to her friends, "Jules barbecues hella good."
Her first online comic, Promises Promises ran for six years and produced two volumes in print, Starting Tomorrow and Starting Monday.
https://www.promisescomic.com
| | |
| --- | --- |
| | |
| Knight & Dave has a Patreon page – pre launch. Can you tell us a bit about what your planning with Patreon? | Joel |
| | |
| Where do you get your ideas? – KIDDING! – Knight & Dave is a unique set up; Where were you when the idea for the new strip hit you? | Joel |
| | |
| In the car. | Jules |
| | |
| What prompted the move away from Promises Promises? | Joel |
| Not s a sore spot at all. NP. | Jules |
| | |
| What are some teasers or plot points you can give us about Knight and Dave? | Matt |
| | |
| What have been some of the new challenges you've had to face? | Matt |
| | |
| How has the reaction been from your Patrons? | Matt |
| | |
| Ever give any thought to animating your characters at all, perhaps as a gif inside of one of your comics? | Matt |
| | |
| There's a fantasy element to K&D, are you going to be inventing some crazy new creatures, or are you planning to stick to the traditional ones? | Matt |
| | |
| You've moved the launch date of Knight & Dave to April 10th. What was your reason for the delay? | Joel |
| | |
| In one of your first Patreon posts for Knight & Dave you referred to Promises Promises as a "half-assed" attempt at a comic. Explain yourself!!! | Joel |
| | |
| You've got some content that you're currently only displaying on Patreon. What are your thougths on Patreon's interface and how the end result is displayed? | Joel |
| | |
| | |
| Knight & Dave is a long(er) form story, but you're page size is horizantal. What lead you to that decision? | Joel |