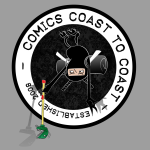 Chris Flick joins Brian Dunaway, Joel Duggan and Matthew Ducharme to talk about his 1000+ strong webcomic Capes and Babes and his hiatus.
About the Comic: Capes 'n Babes
https://www.capesnbabes.com/strip-411/
"Capes 'N' Babes" was originally envisioned as a graphic novel.
About eight years or so ago, I went to the Small Press Expo in Bethesda, Maryland. It was there that I discovered a wonderful little comic book called The Copybook Tales. It told the story of two friends – a writer and an artist as they remembered their childhood adventures. The story essentially was a flashback of then and now. It was a great book and I eventually found the trade paperback.
But it helped spawn an idea. At the time, I was still into serious super-hero books… Batman, X-Men, Captain America and all the rest but thanks to the first trip to the SPX, I was suddenly getting into more self-published work. So much so that I started creating my own story.
Inspired by The Copybook Tales, I started writing about my high school memories of hanging out at the local comic book shop. The characters started flying out of my brain. The stories were too. The only problem was… I could never get it right… whether it was the style (realistic) or the story (drama/autobiographical). Although I thought it was a good concept – a story about a comic book shop – I could never seem to get it right.
But the idea never left my brain. In fact, many of the original story elements are still there:
"Capes 'N' Babes" is based on a real store and a real strip mall.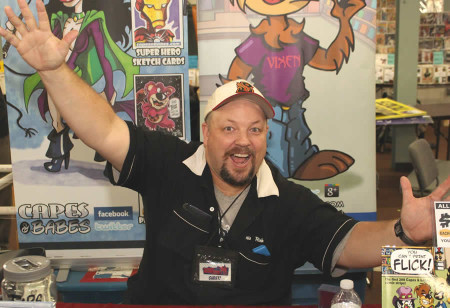 About Artist:
https://webcomicalliance.com/about/
Having graduated from Radford University in 1991 with a graphic design and commercial illustration degree, Chris Flick has worked in a wide range of graphic design fields – from silk-screen illustrator to an advertising agency graphic designer. In between, he has done freelance commercial illustration and caricature work.
In 1999, he taught himself html and eventually went on to co-author two books about web design – both of which were published by New Riders Press. It was this association with New Riders Press that lead him to start a promotional webcomic strip for the website, Community MX (www.communitymx.com) that ran from 2004 to 2010.
After a few years of working on "CMX Suite", Chris decided to create an entirely new comic strip comprised of his own characters and dealing with his love of comic book and super heroes. And in November of 2007, Capes & Babes was born. Capes & Babes is a webcomic about a strip mall, a comic book shop and one crazy werewolf and can be read three times a week at www.capesnbabes.com
| | |
| --- | --- |
| Strip Malls! What is that? | Brian |
| | |
| The 1000 comic mark. How did that feel? | Joel |
| | |
| The 1000 comic mark hiatus. How did THAT feel? | Joel |
| https://www.capesnbabes.com/comic/1001-boom/ | |
| | |
| Baseball season starts in April. Are you prepared for a 3 times a week comic and sports! | Brian |
| | |
| General discussion about conventions and how many I usually do in a year – tthat would tie in to the Minion mash-up commissions, I think. 🙂 | Chris |
| James Rowe on Facebook | |
| | |
| Minion Mash-ups on Pinterest | Chris |
| https://www.pinterest.com/capesnbabes/my-minion-mash-ups/ | |
| | |
| Minion draiwngs. So many. So much fun. How did that start? | Joel < not Brian. JOEL. |
| | |
| Ever worry about running into copyright issues when things like that get popular? | Follow up… |
| | |
| Also, possibly mentioning my involvement with the Webcomic Alliance as well. | Chris |
| | |
| Talk about WebcomicAlliance | Brian |
| https://webcomicalliance.com/ | |