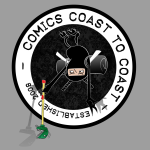 This show, we interview David Reddick. WHo is David Reddick you say? Are you kidding?!!! Well, for you 'one or two' who don't know, David is a professional cartoonist and creator of the comic strips "Legend of Bill " at LegendofBill.com, "The Trek Life" for CBS/ STARTREK.COM, "Gene's Journal " and "Rod & Barry " at Roddenberry.com, and he is a full-time cartoonist at Paws, Inc., where he works on the "Garfield " comic strip, publishing and licensing. David was an award-winning staff cartoonist at a daily newspaper for 6 years where his editorial cartoons and single-panel cartoons were distributed to newspapers nationwide through Artizans Syndicate , Scripps Howard News Service and CNHI News Service. David also produces comics and cartoons for magazines like Star Trek Magazine, Knights of the Dinner Table, Nickelodeon and Scholastic's The New York Times Upfront, to name a few, and has created comic book work for IDW Publishing and Tokyopop, has created product designs for companies like Paws, Inc., Paramount Pictures, CBS Studios, Roddenberry Productions, Canson, Inc. and the NCAA, creates mobile content for providers like CBSMobile and ROK Comics in the UK, and his abstract and pop art paintings have been exhibited in galleries and museums in Indianapolis, Florida, Michigan, England and France, and he's painted wall murals in Japan.
David is also part of the growing power-huse collective of web-cartoonists over at Tall Tale Features .
This is a crazy and raucous interview and is just so fun. It sounds like we're all in the same room. We goofed around so much that we have didn't actually get to much meat. So we'll have to split it up into two parts. Here's the first part.
We also congratulate a former guest on our show, Andrew Pepoy  of Simone and Ajax, for the release of the Katy Keene Special #1 .
It's a 6″x9″ 112 page graphic novel, featuring a collection of Katy Keene shorts from Archie and Friends issues 101-110.
It's set for release this summer, so be sure to check that out! Andrew is incredibly talented.
WE'd love to hear from you!
Write to: guys@comicscoasttocoast.com
Music "But Shes Moody" by Fabulous Hats
These are the Comics Coast To Coast guys comics:
A Mission Deep by Brian Dunaway
MythTickle by Justin Thompson
Booksmarts by Tom Racine
(more…)