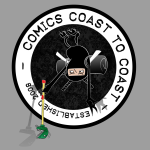 On this episode of Comics Coast To Coast we talk with Mike Witmer a long time friend of the show and creator of the webcomic Pinkerton.
Mike was last on Episode 13. When we talked about 44 Union Ave to Pinkerton. He's done a lot since then.
Even though John and Justin could not join me this episode Matt Ducharme of Mat The Wad was kind enough to pop in and help me drive this crazy thing
The Links:
https://www.pinkerton.webcomicsonline.com
As always, you can find our show by clicking the link below, or if you want to take us with you,
you can download us from iTunes.
Music To Draw By

One O One : by Sunshine Variety Club

Webcomic Pick Of The Week

Best In Show : by Phil Juliano