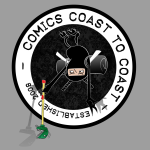 On this episode of Comics Coast To Coast we talk with award winning political cartoonist Mike Beckom.
Brian and Mike talk about being cartoonists in the south, going back to school, beating the competition and how to fulfill all your cartooning dreams with just one pencil. Alright, I made that last one up. But we did have a good time.
The Links:
https://www.crazybrainscartooning.com/
As always, you can find our show by clicking the link below, or if you want to take us with you,
you can download us from iTunes.