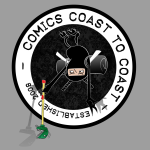 On this episode of Comics Coast To Coast we talk with Bob Weber Jr. and Brendan Burdford about the new King Features comic "Oh, Brother."
Bob Weber of Slylock Fox fame fills us in on the creative side of the comic as Brendan Burford gives us a little more background into the evolution of comics that is happening over at King Features Syndicate.
From the creative team of cartoonist Bob Weber, Jr. (Slylock Fox and Comics for Kids) and Emmy® Award-winning creator Jay Stephens (The Secret Saturdays and Tutenstein) comes Oh Brother!, a new comic panel for everyone, young and old!

Oh, Brother! stars Bud and Lily, a brother and sister who live and play together in their suburban neighborhood. Lily is slightly older yet far more sensible. She takes it upon herself to look after her uninhibited, prank-loving younger brother. Despite their obvious personality differences, Bud and Lily love each other deeply and have a strong sibling bond. – Oh, Brother Website
So please go check out the "Oh, Brother" comic at https://ohbrothercomics.com/ you will be glad you did.
Here is just one sample of all the goodness:
The Links:
https://ohbrothercomics.com/
https://kingfeatures.com/
https://jaystephens.com/
As always, you can find our show by clicking the link below, or if you want to take us with you,
you can download us from iTunes.