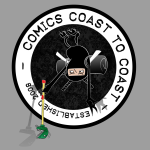 On this episode of Comics Coast To Coast we talked about:
Lucas Turnbloom's new book, 'Arlo & Janis' Turns 25, Yogi goes 3d and the closing of zudacomics.com
As always, you can find our show by clicking the link below, or if you want to take us with you,
you can download us from iTunes.
Dewey Defeats Truman – New Image This Book.
""Dewey Defeats Truman" is finally here in the store! This book collects strips from "Imagine THIS'" second year. It's 100 pages of all the wackiness you've come to expect from Clovis, Dewey, Darin and the rest!
It also includes a 17-page BOOK-ONLY story!
And last, but not least, Richard Thompson (of Cul De Sac) was kind enough to offer the foreword — how awesome is that??
There are a limited-number of special Artist's Editions of "Dewey Defeats Truman"! The Artist's Edition is autographed by Lucas Turnbloom, and features a cool sketch inside. After this limited run of 50 Artist's Editions are sold, no copies sold in the store will contain a Turnbloom sketch. So if you're interested, hurry! Before they're gone!"
source: https://imaginethiscomic.com/?p=2139
link: https://imaginethiscomic.com/?page_id=870
Arlo & Janis Turns 25
""Arlo & Janis," the comic strip that began as the chronicle of a Baby Boomer couple and its young family, turns 25 on Thursday July 29.
To mark the occasion, writer and artist Jimmy Johnson is re-running some vintage strips during the week in print and online, with commentary included at his Web site.
"I really wanted to do a comic strip about a society of talking dogs, called 'Baskerville,' but talking-animal strips were out of favor with newspaper editors at the time, and young families were all the rage," Johnson wrote on his site Monday. "Most of the family-oriented strips targeted at the baby boomlet of the 80s are gone now, and most of the mega-strips launched since then have involved talking animals, but I'm not complaining. Incidentally, a lot of us are again talking of moving to the country and growing much of what we need."
"Arlo & Janis" is syndicated by Newspaper Enterprise Association."
source: https://www.editorandpublisher.com/Departments/Syndicates/arlo-janis%E2%80%99-turns-25-62108-.aspx
Yogi Bear 3D
"According to Wikipedia.com: Yogi Bear is an upcoming American/New Zealand/Canadian 3-D live-action/CGI film adaptation of the iconic Hanna-Barbera cartoon series, The Yogi Bear Show, due for release on December 17, 2010.[1] It will be distributed by Warner Bros. with Hanna-Barbera Productions. It will be the first movie development of a Hanna-Barbera property produced with the assistance of neither Bill Hanna nor Joe Barbera (the original creators), who died in 2001 and 2006 respectively.
Eric Brevig is the director, and Donald De Line, Karen Rosenfelt and Tim Coddington are the producers, with Lee Berger, Jim Dyer, Andrew Hass and Jon Berg as the executive producers.[1] Dan Aykroyd stars in the film as Yogi Bear. Principal photography began in November, 2009.
Plot:
Jellystone Park has been losing business, so greedy Mayor Brown decides to shut it down and sell the land. That means families will no longer be able to experience the natural beauty of the outdoors — and, even worse, Yogi and Boo Boo will be tossed out of the only home they've ever known. Faced with his biggest challenge ever, Yogi must prove that he really is ""smarter than the average bear"" as he and Boo Boo join forces with their old nemesis Ranger Smith to find a way to save Jellystone Park from closing forever."
source: https://www.youtube.com/watch?v=0Ujs1_qYsa8&feature=related
zudacomics.com shutting down
"Thursday, July 1st, 2010
By Ron Perazza
Last week DC Comics took a much anticipated second step into the world of digital publishing with the simultaneous launch of the official DC Comics iPhone/iPad App (powered by comiXology) and participation in Sony's Playstation Network. I say second step because, as most Zuda fans know, we made our first step back in 2007 when DC Comics tasked us with a project that would evolve into ZUDA COMICS. Part webcomics collective, part community, part competition, all experimental; Zuda was an unique and ambitiously creative project, albeit an occasionally clunky one.
Recently we ended our competition format and put submissions on hold. And now, effective today, www.zudacomics.com will be shut down."
source: https://zuda.blog.dccomics.com/2010/07/01/the-future-of-zuda/
Dear Aspiring Cartoonist:
Ten Tips for Cartoonists to Overcome a Creativity Slump
"Except – 3. Do a Google Images Search
I hope everyone reading this is aware of the Google Images search – a search restricted to images only.
I know, you're thinking "I don't want to steal someone else's ideas". That's not the point here. Sometimes it just difficult to get your head around how something looks. I know I have the bad habit of trying to draw from memory. While this works for dogs, bananas, coffee mugs and a carburetor from a '79 Buick LeSabre (well, maybe not that last one), it doesn't work for most things. Even simple items like keys, pencils, and animals you don't see every day (like a goat project I once had), etc., you may THINK you know what it looks like, but once you get some reference material you start to notice subtleties that will make the cartoon come alive."
source: https://georgecoghill.com/blog/29/ten-tips-for-cartoonists-to-remove-a-creativity-block/