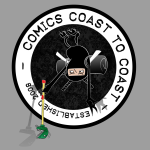 Show Notes:
This week we talk with Paul Gilligan, creator of Pooch Cafe, about his movie deal with Sony and his Poncho: Year One project coming to a newspaper near you.
Creator Bio:
Paul Gilligan's affair with art began in 1970, in kindergarten, when he figured out that he stunk at sports and that art was his only other option for impressing chicks. Weaned on Mad magazine, super-hero comics and "Bloom County," Paul attended Toronto's Sheridan College for animation and illustration and took comedy writing at the Film Institute in Ottawa.
He tested out other jobs over the years such as gas jockey, carnie, night watchman and florist, before joining the Ottawa Citizen newspaper as its on-staff illustrator, where he won awards in both illustration and design. He also found work in advertising, editorial cartooning, storyboarding, comic books and animation, and finally set up shop in downtown Toronto as a free-lancer, where his roster of illustration clients grew to include the likes of Entertainment Weekly, Time, The Wall Street Journal, Disney, and Wired. During this time he created a number of strips, the culmination of which was Pooch Cafe.
Pooch was the first comic of the new millennium, debuting on Jan 1, 2000 with Copley News Syndicate. In 2003 it was picked up by Universal Press Syndicate, and since then it's found its way into over 270 newspapers around the globe, including recent additions like London and Moscow.
Paul does not currently own a dog, but he skulks around dog parks doing research, and is an avid viewer of "Dogs With Jobs" and "Scooby-Doo" reruns.
Show Links:
Show Thanks:
A special thanks to our guest Mr. Gilligan, Matthew, Scott Johnson (voicework), Sebastiaan (mashup) and all of our great listeners for making this show possible.
As always, you can find our show by clicking the link below, or if you want to take us with you,
you can download us from iTunes.