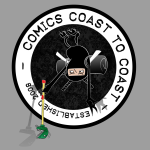 Show Notes: This week we have the honor of having Scott Kurtz of PVP Online on the show.
HOW 'BOUT 'DAT???
Show Links:

Show Thanks:
A special thanks to our guest Scott Kurtz. Thanks to Scott Johnson of Extralife Radio (voicework), Sebastiaan (mashup) and all of our great listeners for making this show possible.
As always, you can find our show by clicking the link below, or if you want to take us with you,
you can download us from iTunes.
Music To Draw By

Webcomic Pick Of The Week


chainsawsuit by Kris Straub