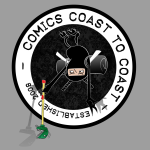 This week we talk with Terri Libenson of The Pajama Diaries.

When I was at the

Comics Symposium

in Cleveland last April, I had the honor of hearing a presentation from and meeting

Terri Libenson.

She was completely delightful and very funny. It's no wonder that her comic strip, The Pajama Diaries, at King Features is such a big hit. Terri was gracious enough to grant us an interview and here it is.


WebComic Pick Of The Week
A Pick Is Coming:
Special thanks to Rob (Theme Song), Sebastiaan (The Mashup) and our guest Terri Libenson.
As always, you can find our show by clicking the link below, or if you want to take us with you, you can download us from iTunes.
As always, we love your feedback. Post here or email us.
Write to: guys@comicscoasttocoast.com
These are the Comics Coast To Coast guys comics:
A Mission Deep by Brian Dunaway
MythTickle by Justin Thompson