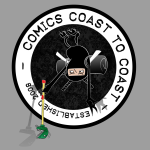 This week Tom and Justin interview the wonderfully talented Alex Hallett. We are proud to have Alex as our first woman cartoonist and she is a wonderful guest. She comes from England and moved to New Zealand, and created a comic strip about penguins who come from the Southern Hemisphere and migrate to the Northern Hemisphere. Well, they always say to, "Write what you know."
"Alex Hallatt is a freelance cartoonist and writer based in New Zealand, with clients in the US, NZ, Australia and the UK. She provides cartoon illustrations for newspapers, books,magazines and other printed material, as well as creating flash animatione-cards and web sites." for TV, games, corporate presentations.
Find her at, https://www.moontoon.com 
 UPDATE!:
Alex has just informed me that she is starting in her first Aussie paper this week – The Age in Melbourne is giving her  a try out, replacing For Better or For Worse. Funny how we were talking about For Better or For Worse during the show and… well there ya' go.
As always, we love your feedback. Post here or email us.
Write to: guys@comicscoasttocoast.com
These are the Comics Coast To Coast guys comics:
A Mission Deep by Brian Dunaway
MythTickle by Justin Thompson
Booksmarts by Tom Racine