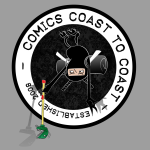 A true comics historian, writer, and part of the legacy of Beetle Bailey and Hi and Lois joins us on the show.
Brian Walker, son of Mort Walker graces us with an interview and tell us all about comics history, how these strips are put together now, collaborating with his legendary father, and which Hi and Lois character is actually related to Beetle Bailey.
A real treat for those of us who truly love the comics artform.
Write to: guys@comicscoasttocoast.com

{enclose cccep45.mp3}
Music "Gary Larson Cartoon" by Dropkick
These are the Comics Coast To Coast guys comics:
A Mission Deep by Brian Dunaway
MythTickle by Justin Thompson
Booksmarts by Tom Racine