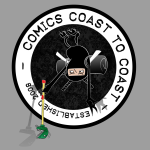 The Knight Life
Justin Thompson (MythTickle) and Lex Fajardo (Kid Beowulf) sit down face to face with the outstanding Keith Knight . We interviewed him during his visit to the Charles M. Schulz Museum and Research Center back on May 18th. Keith may be the most enterprising cartoonist we've interviewed on this show, the guy does the K Chronicles, Th(ink), contributes to Salon.com, ESPN, and draws Father O'Flannity's Hot Tub Confessions for Mad Magazine, and just had a brand new strip titled The Knight Life syndicated by United Media. Aside from the latter, all of these things have been self syndicated. He has hustled his work for years, and we talk to him about that. We also discuss all of his strips, how and why he often writes himself as a main character, and what it's like to constantly work. He also performs with his L.A. based hip hop band called The Marginal Prophets .
The K Chronicles won the prestigious and cool Harvey Award (2007) , the comic book industry's oldest and most respected award, for Best Syndicated Strip or Panel!  The K Chronicles also won the 2007 and 2008 Glyph Award for Best Comic Strip!! A fascinating man who could not properly be done justice in this amateur interview,  but we do pretty good.
Also:


We talk for a while to Mike Witmer (Pinkerton ), the brainchild behind the newest webcomic conglomerate called TallTale features ! A great idea with some of the most innovative and talented web cartoonists toiling today. It all just started, get in on the ground floor and bookmark TallTale Features !
WE'd love to hear from you!
Write to: guys@comicscoasttocoast.com

{enclose cccep41.mp3}
Music "Stone Survivor," by Low Of The Low
These are the Comics Coast To Coast guys comics:
A Mission Deep by Brian Dunaway
MythTickle by Justin Thompson
Booksmarts by Tom Racine