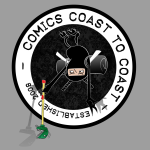 Darrin Bell, artist of Rudy Park and creator/writer/artist of the wonderful Candorville is our guest on show 39. We discuss his clear and cutting social commentary, his journalistic past, and Star Trek. Darrin is such a hard-working guy, and as if two comic strips weren't enough, he owns and operates the famous  ToonTalk forum board. Stick around after the end music and hear some stuff that Brian recorded when we didn't know he was recording, and posted without our permission.
Ah, we do have fun on Comics Coast To Coast.
Our webcomic pick of the week this week is the beautifully done 'Worked ' over at Comics Sherpa. Check it out.
Links:

{enclose cccep39.mp3}
Music by V-Project : Disclaimer
These are the Comics Coast To Coast guys comics:
A Mission Deep by Brian Dunaway
MythTickle by Justin Thompson
Booksmarts by Tom Racine